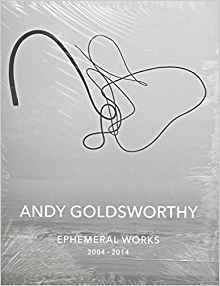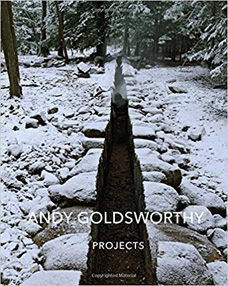 Andy Goldsworthy, Andy Goldsworthy: Projects (New York: Abrams, 2017), and Andy Goldsworthy: Ephemeral Works: 2004–2014 (New York: Abrams, 2015).
About a mile from my house, at Stanford University, there's a work by the British environmental artist Andy Goldsworthy (born 1956) called Stone River. It's a 320-foot sculpture that was constructed of sandstone from Stanford buildings that were destroyed in the 1906 and 1989 earthquakes. A university news article described the work when it was unveiled: "Stone River is a wall-like serpentine sculpture set in about three acres of land to the northeast of the Iris & B. Gerald Cantor Center for Visual Arts. It is about 3 1/2 feet high and about 4 feet wide at its base. It is made of more than 6,500 stones, including about 700 triangular coping stones weighing between 20 and 50 pounds each that top the sculpture. Each coping stone was individually shaped at a different angle to fit the wall precisely. The total weight of the piece is about 128 tons." [1]
I first encountered Andy Goldsworthy at about the same time that Stone River was built, in the documentary film about Goldsworthy called Rivers and Tides, Working with Time (2001). The film is a little dated now, but still well worth watching. A new documentary about Goldsworthy called Leaning Into the Wind was due for release this past March 2018.
"There is a world beyond which words cannot describe," says Goldsworthy in the 2001 film. With that he tosses a mud ball made of dark red crushed iron stone into a river for an explosion of color. What once was solid is now liquid, the immobile stone now part of the flowing river. Ice. Twigs. Thorns. Dandelions. Rocks. Sand. Sheep wool. Snaking ribbons of braided leaves. From the North Pole to Canada, Japan, Australia, and New York, all of his work, most of which is ephemeral because that same nature will destroy it, is made from the elements of nature, sculpted in nature, and is about nature. But words cannot begin to unpack the haunting beauty and evocative power of his creations.
The two massive "coffee table" books reviewed here were made concurrently by Goldsworthy, and are considered a single work by him. They should not be confused with the similar title of his 2011 book The Andy Goldsworthy Project.
The dust jacket of Ephemeral summarizes the themes of Goldsworthy's work: "materiality, temporality, growth, vitality, permanence, decay, chance, labor, and memory." Ephemeral gathers photographs of what Goldsworthy considers his two hundred "most significant" small or ephemeral works that he created between 2004 and 2014. The companion volume Projects contains photos of over forty larger scale works, with about 6 to 8 pages devoted to the creation and completion of each work. What's amazing in both volumes is how the photographs themselves are works of art.
The Projects volume also contains a lengthy 2016 interview with Goldsworthy's current partner, the art historian Tina Fiske (his first wife died in a car accident). Throughout his prolific career there has been what he calls his obsession with a paradox: "the permanence of temporary objects, and the temporality of permanent objects." For a longer, critical review of these two books, and the decades of Goldworthy's work, see Andrew Motion, "The Pencil of Nature," NYRB (February 8, 2018).
1. http://web.stanford.edu/dept/suma/news_room/archived_acquisitions_goldsworthy.html