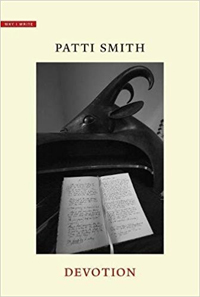 Patti Smith, Devotion (New Haven: Yale, 2017), 93pp.
The Washington Post once described Patti Smith (b. 1946) as "the high priestess of cool," which is a pretty good way to describe the multi-talented writer (twenty-one books), performer (eleven albums), artist, and activist. Her punk rock album Horses (1975) has been honored as one of the top one hundred albums of all time. In 2005 Smith was awarded the prestigious Commandeur des Arts et des Lettres by France's Ministry of Culture, and in 2007 she was inducted into the Rock and Roll Hall of Fame. Her memoir Just Kids earned a National Book Award for nonfiction in 2010, and her 2015 memoir M-Train was a New York Times best-seller.
This little book originated as the 2016 Windham-Campbell Lecture at Yale, the second author in Yale's new series of books called Why I Write (the inaugural lecture was by Hilton Als). In the first chapter, a sort of travel diary, Smith recounts a trip to her publisher in Paris, and the random events and experiences there that became material for the second chapter of the book, a short story about a young Estonian skater who has an affair with an older man. The third chapter is but a six page postscript, and is a reflection on visiting the home of Camus at the invitation of his daughter Catherine, and examining meditatively the handwritten manuscript of Camus's last and unfinished novel The First Man. Why do we write? We write, says Smith in the very last sentence of the book, "because we cannot simply live." The book includes a dozen or so of Smith's black and white photos.