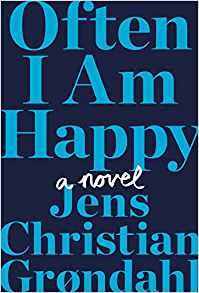 Jens Christian Grøndahl, Often I Am Happy: A Novel (New York: Twelve, 2017), 167pp.
There's a bittersweet sort of equanimity that has come to characterize seventy-year-old Ellinor after the death of her husband Georg. Time does heal many if not all of our wounds, or at least it gives us a different and more nuanced perspective on life. To process her grief and the flood of memories, Ellinor shares her candid thoughts with her long dead best friend — and Georg's first wife — Anna. There are the brute facts of our lives, she observes, but it's quite another thing to interpret and make sense of those facts.
Ellinor never had kids of her own, but she did her best as the stepmother to Georg and Anna's twin boys Stefan and Morten. They were only seven when Anna died, and suffice it to say that her relationship with them as forty-something adults is much more complicated than when they were young. She has sold the family home, much to the chagrin of the twins. There are family secrets of all sorts, her own mother's complicated story during the war, a father she never knew, a disastrous ski trip to parse thirty years after the fact, and numerous burdens that she has carried through life and never shared with anyone.
The title of the book comes from a song by B.S. Ingemann that Grøndahl places at the beginning of the book: "Often I am happy and yet I want to cry; / For no heart fully shares my joy. / Often I am sorrowful yet have to laugh, / That no one shall my fearful tear behold."
And so Ellinor confides to Anna, "There isn't a thing that doesn't pass off. It strikes me that my account must seem sad to you, but I am not a sad person, and you know that. Often I am happy, as the song goes, happy inside, even if I can't always show it. It is all just something that passes you by. You're being pushed and pressed, sometimes even being crushed, and you can be knocked off your course, but you remain the same on the inside."