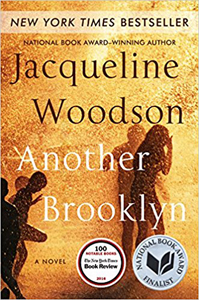 Jacqueline Woodson, Another Brooklyn (New York: HarperCollins, 2016), 175pp.
Jacqueline Woodson, winner of the Newberry Medal and National Book Award for Brown Girl Dreaming (and numerous other awards for thirty other titles) once said that she wanted "to write about communities that were familiar to me and people that were familiar to me. I wanted to write about communities of color. I wanted to write about girls. I wanted to write about friendship and all of these things that I felt like were missing in a lot of the books that I read as a child." That's exactly what she does in her newest book Another Brooklyn.
Woodson grew up in Brooklyn, with family roots in the south, the two places where this autobiographical work of fiction is set. When a thirty-something narrator named August meets a childhood girl friend on the subway, it causes her to think back on her transition from childhood innocence to the much darker world of adults: "Sylvia, Angela, Gigi, August. We were four girls together, amazingly beautiful and terrifyingly alone."
She remembers skipping rope, playing in the water of a gushing fire hydrant, chasing the ice cream truck, and trips to Coney Island. She also remembers the crack heads, the polyglot of languages on the city streets, the white flight from her neighborhood, the moans from the next door apartment, being molested by the pastor, her first boyfriend-groper Jerome, her father's conversion to the Nation of Islam, and, especially, the powerful absence of her mother: "How were we to learn our way on this journey without my mother?"
The Brooklyn of her past childhood is a different place than her present adult Brooklyn. And both past and present Brooklyn were always haunted by "another" Brooklyn of a far different sort: "Intrigued by all the places out there beyond Brooklyn — Mumbai, Kathmandu, Barcelona — anyplace but here." Again: "Everywhere we looked, we saw the people trying to dream themselves out. As though there was some place other than this place. As though there was another Brooklyn." In one reflection there's even the terrifying threat of being sent back to Brooklyn. Thus, our geographic place across time forms us, but displacement, real or only imagined, does so even more.
Adolescent angst suffuses every page of this novel. "We were teenagers. What did we know? About anything." In an interesting note at the end of the book about writing Another Brooklyn, Woodson says that she rediscovered, among other things, "the slow-motion ferocity of the end of childhood."