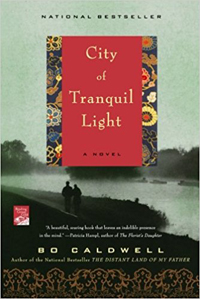 Bo Caldwell, City of Tranquil Light (New York: Henry Holt and Company, 2010), 320pp.
Bo Caldwell's wise and beautiful novel is based on the the lives of Caldwell's maternal grandparents, who served as missionaries in China in the early 1900s. It opens in the 1960s with an elderly Will Kiehn reflecting on the decades he spent with his wife, Katherine, serving as "mu shih" ("shepherd-teacher") in the remote city of Kuang P'ing Ch'eng, "The City of Tranquil Light." In prose that is quiet and luminous, Caldwell alternates between Will's memories and Katherine's real-time journal entries, creating a narrative that braids several stories into one: the story of a marriage, the story of a decades-long missionary endeavor, and the story of China's turbulent plunge into revolution.
It is rare to read a contemporary novel that takes religious faith seriously, honoring its complexity without sinking into either sentimentality or cynicism. In this, Caldwell succeeds utterly. The Mennonite faith that compels Will and Katherine to establish an outpost in rural China, and offer medical and spiritual care to its people for many years, is rendered honestly and with deep respect. But so are the beliefs and traditions of the people the Kiehns minister to and grow to love. Insofar as Will and Katherine learn as much from the villagers as they teach them, the novel highlights the quiet, triumphant power of mutual humility, mutual sacrifice, and mutual love.
Meanwhile, the novel nicely captures the landscape and culture of pre-revolutionary China, complete with harrowing stories of bandits, famine, illness, and mass violence. Through it all, we get the steady drumbeat of Will and Katherine's marriage — its trials, its heartbreaks, its joys, its rewards. All in all, Caldwell's novel is a meditation on love, the kind of love that matures with the passing years, and transcends the boundaries of time, race, culture, religion, memory, and even death.