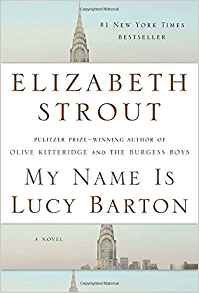 Elizabeth Strout, My Name is Lucy Barton: A Novel (Thorndike, Maine: Center Point Large Print, 2016), 175pp.
Lucy Barton is the main protagonist and first person narrator of her story about growing up in an impoverished and dysfunctional family in the tiny, rural town of Amgash, Illinois, and then moving to New York City. After complications from an appendectomy, Lucy is confined to a hospital for nine weeks, during which time her mother visits her for five days (the first time she had ever been on a plane). They had not spoken to each other for years.
It's an occasion for small town gossip, reminiscence, re-connection, and, for Lucy, deep introspection about where she came from, how it formed her, and the person she has become. When her husband joked that she "came from nothing," which was true in an economic sense, she reflects that "no one comes from nothing."
The archaeology of family history is a delicate and complicated task. Memory plays tricks on you. People can parse a shared experience in different ways. All human love is imperfect, Lucy observes. We can never know another person truly or fully. She works hard to be ruthlessly honest about her past and present lives, itself a difficult task, but in the end she is always compassionate and never judgmental. It's okay, she says, that her mother can't tell Lucy that she loves her. Sharing memories with her mother brings Lucy both pain and joy.
Strout's book Olive Kitteridge won the 2009 Pulitzer Prize and sold over a million copies. Lucy Barton's family story continues in her newest novel, Anything is Possible (2017), when Lucy returns to Amgash after a seventeen year absence. For a brief overview of Strout's life and work, see Ariel Levy, "A Long Homecoming: Elizabeth Strout's Small-Town Novels," The New Yorker, May 1, 2017.