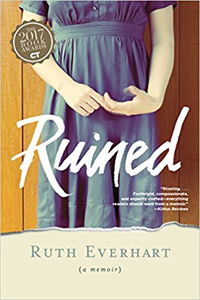 Ruth Everhart, Ruined (Carol Stream: Tyndale, 2016), 310pp.
One night in 1978, during her senior year of college, Ruth Everhart and her roommates lived through a nightmare that would haunt them for years. Two armed men broke into their apartment, held them hostage, and took turns raping them at gunpoint. As shock, fear, and confusion gripped Everhart in the days and weeks following the crime, she wondered why God would allow something so horrific to happen to a "good girl" like her. Having been raised to accept the Calvinist doctrine of God's sovereignty, Everhart interpreted her ordeal as divine punishment, and considered herself "ruined."
What followed was the long and bitter spiritual crisis Everhart describes with courageous honesty in her new memoir. Now a longtime Presbyterian minister, Everhart writes unflinchingly about the night that changed her life, and explores the hard religious, spiritual, and racial questions (Everhart is white, and her attackers were black) that she faced on her journey towards healing and wholeness. Incorporating personal narrative, court transcripts, and even a moving letter to her own daughters, Everhart's memoir explores the particular challenges Christian rape survivors face, given the "purity ethic" which still dominates the Church's teachings on sex. Arguing forcefully that a woman's worth is not dictated by her sexual experiences, Everhart writes: "Nothing is more washable than human skin. It is the most washable substance on earth. Thank God." Everhart's memoir is brave and compelling — a testament to the power of grace to bring healing out of violence and trauma.