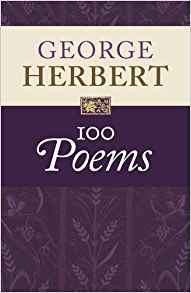 Helen Wilcox, editor, George Herbert: 100 Poems (Cambridge: Cambridge University Press, 2016), 174pp.
George Herbert (1593–1633) died at the age of forty almost four hundred years ago. As the public orator at Cambridge University, he was, as editor Helen Wilcox notes, "one of the most accomplished rhetoricians of his generation." He hailed from an aristocratic family. And yet even today there's a broad consensus among scholars and non-experts alike that he's one of the greatest devotional poets of the English language.
Born to privilege, Herbert experienced his own brokenness, and a result he demonstrated unusual compassion for the human condition. He was only three when his father died. Elected to Parliament, he anticipated a distinguished career in politics and public service. At the age of thirty-six he shocked his friends when he became the rector at Bemerton, a small village near Salisbury, where he spent the rest of his short life before dying of tuberculosis. In Bemerton he preached, wrote poetry, served the pastoral needs of his people with loving distinction, cared for the poor, and even helped to rebuild the church using his own resources.
None of Herbert's poems had been published when he died, but upon his deathbed he gave them to his friend Nicholas Ferrar, asking them to be published only if they might help "any dejected poor soul." His "little book," as he called it, contained "a picture of the many spiritual conflicts that have passed betwixt God and my soul, before I could subject mine to the will of Jesus my Master: in whose service I have found perfect freedom."
According to Wilcox, the key to understanding Herbert's poetry is an appreciation for its remarkable "balance of rhetorical skill and complexity on the one hand, and a simplicity and directness of style on the other." To take just one example, consider the last line of "Love (III)" with just six monosyllables: "So I did sit and eat."
After a short introduction by Wilcox, the 100 poems are laid out with a befitting simplicity. There are two alphabetical indexes at the end — one for the titles of the poems, and another of first lines. This book begs to be read and savored on a poem-a-day basis.
NOTE: For a sampler of Herbert's work, we have posted eighteen of his poems at JwJ. See here: http://www.journeywithjesus.net/poetry/poetry-index