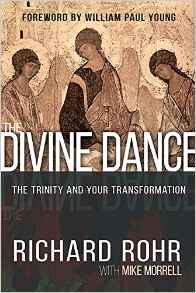 Richard Rohr, with Mike Morrell, The Divine Dance: The Trinity and Your Transformation (Pennsylvania: Whitaker House, 2016) 220pp.
Although the doctrine of the Trinity is supposedly central to Christianity, it's often sidelined as a "mystery" that has little bearing on our actual lives as Christians. In his newest book, The Divine Dance, Franciscan priest, contemplative, and writer Richard Rohr attempts to set the record straight. "We always become what we behold," he argues, meaning that we impoverish ourselves when we imagine God as imperial and aloof, a "Supreme Monarch" or a "Critical Spectator." The Trinity, he suggests, offers an essential corrective, because it is in fact the very heart and essence of God. God is fundamentally relational, communal, and hospitable. God is the divine dance itself, an eternal and loving flow between Father, Son, and Spirit that creates, welcomes, mirrors, and delights us. "Don't start with the One and make it into Three," Rohr writes, "but start with Three and see that this is the deepest nature of the One."
If this seems hard to wrap your mind around, then you're right where you need to be, because Rohr's book is not an intellectual treatise on Trinitarian theology. It's a devotional, a quick read that feels deceptively easy to give our assent to until a slower, more contemplative read reveals how profound and challenging its insights really are. All authentic knowledge of God, Rohr insists, is participatory knowledge. Knowledge gained in contemplation. So we might rather pray Rohr's book than read it. But if we do, it will yield up all kinds of treasures to enrich and enliven our experiences of God.