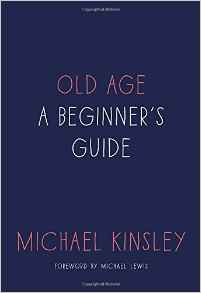 Michael Kinsley, Old Age: A Beginner's Guide (New York: Tim Duggan Books, 2016), 160pp.
I first enjoyed the work of the liberal commentator Michael Kinsley (born 1951) back in the late 1970's when he was the moderator of the conservative Firing Line of William Buckley. He later did stints at the The New Republic, Harper's, the Washington Post, The Economist, CNN's Crossfire, and the LA Times. He was also the founding editor of the online journal Slate. Today he's a columnist for Vanity Fair and a contributor to The New Yorker.
When Kinsley was forty-two, back in 1993, he was diagnosed with Parkinson's disease. Instead of acceptance or confrontation, he chose to deal with his disease by denial. That worked for about eight years, after which he went public at about age fifty. In 2006, he underwent deep brain stimulation surgery. Today Kinsley is sixty-five.
In this little book, Kinsley uses his experiences of PD to reflect on the baby boomer generation in general, and the specter of old age and death in particular. He writes:
"Sometimes I feel like a scout from my generation, sent out ahead to experience in my fifties what even the healthiest boomers are going to experience in their sixties, seventies, or eighties. There are far worse medical conditions than Parkinson's, and there are far worse cases of Parkinson's than mine. But what I have, at the level I have it, is an interesting foretaste of our shared future — a beginner's guide to old age."
He considers several popular measures of a successful life — mere longevity, maintaining lucidity and cognition (versus dementia), and the hope for a good reputation after one is gone. In his last chapter he contrasts the Baby Boomer generation — the largest and most affluent "age cohort" in American history, composed of the 79 million Americans who were born between 1946 and 1964, with their parents' Greatest Generation (per Tom Brokaw).
Most of the material in this book previously appeared in different forms as magazine articles — some of it as old as 2001 and 2006. Consequently (and even some minor editing could have prevented this), there is some repetition from chapter to chapter. Kinsley is always a fun read, but more for his intellectual wit than for any deeply personal wisdom. He has a distinct writer's voice, but one that always seems to enjoy the sound of its clever self. So, for deeper wisdom on the themes of growing old and facing death, I commend other books that I've reviewed in JwJ, most notably those by Barnes, Christensen, Gawande, Hitchens, Kalanithi, and Pillemer (see our comprehensive index of book reviews).