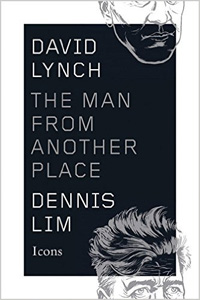 Dennis Lim, David Lynch; The Man From Another Place (New York: Houghton Mifflin Harcourt, 2015), 185pp.
I'll always remember where and when I was emotionally blind-sided by my first David Lynch movie. It was at a screening of Blue Velvet in Boston at the annual meeting of the American Academy of Religion. With all my psychic circuit breakers blown, I left before the movie was over. Later, I took some consolation in learning that Roger Ebert didn't like the movie, and that he had a "deep antipathy" toward Lynch's work, and that another reviewer described it as a "red hot poker to the brain," and "the last real earthquake to hit cinema."
Despite the initial controversy, today Blue Velvet is routinely listed as one of the greatest films ever made. It turned Lynch "from an intriguing oddball director into a brand-name auteur," says David Lim. In this brief biography of Lynch, Lim calls Blue Velvet "one of the decade's touchstone works of art."
Like a lot of viewers, I've also been flummoxed by Lynch's later films, like Mulholland Drive (2001) and INLAND EMPIRE (2006) — Lynch insists on the capital letters, although no one knows why. Five minutes into the latter film, life-sized rabbits appear in a living room dressed in suits and ties. Prostitutes dance the 60's Locomotion. The film lasts three hours, and has no linear plot. Time morphs back and forth between past, present and future. Place moves between Poland and Hollywood.
Lim, a writer, film curator, and the director of programming at the Film Society of Lincoln Center, begins his biography with a brief overview of Lynch's life (born in 1946). The rest of the book pretty much devotes one chapter each to Lynch's scant opus — ten movies in forty years. He tries to describe the "Lynchian sensibility," and "how you are supposed to feel about this." The Lynchian sensibility, he says, is "easy to recognize and hard to define." It's a "cinema of emotional extreme," or "consciousness out of control." No other film maker, he says, has had his movies so carefully psychoanalyzed, except perhaps Alfred Hitchcock.
This slender volume is just one title in a series called "Icons" by the New Harvest imprint of the publisher Houghton Mifflin Harcourt. Other subjects in the series include Jesus (nice title: The Human Face of God), the apostle Paul, Alfred Hitchcock, Van Gogh, Edgard Allan Poe, Judy Garland, Hannah Arendt, etc. These books aren't substitutes for longer, critical studies, but they're still a good way to get a reliable overview of important culture makers. No matter how his movies make you feel, David Lynch certainly belongs in this lineup.