Happy Holy Week
Palm Sunday or Passion Sunday
A guest essay by Sara Miles. Miles is Director of Ministry at St. Gregory of Nyssa Episcopal Church in San Francisco. Her books include Take This Bread (2007), Jesus Freak (2010), and City of God (2014).
For Sunday, April 13, 2014
Sixth Sunday in Lent 2014
Lectionary Readings (Revised Common Lectionary, Year A)
Isaiah 50:4–9a
Psalm 31:9–16
Philippians 2:5–11
Matthew 26:14–27:66 or Matthew 27:11–54
           This past weekend in my city was beautiful — sunny, with bright flowers popping out everywhere and little birds singing their heads off in the trees. The farmers market in our neighborhood was overflowing with ramshackle piles of pea shoots and asparagus, and I ran into some friends, radiantly happy, who were carrying their new baby. We stopped to talk, and the baby's dad, who isn't a Christian but has always taken a kindly interest in my church work, said, "I know you must be busy getting ready for Easter, right? Isn't it soon? So what's the thing to say — do you tell people "Happy Holy Week?'"
           "Well," I said. "You could say 'Happy Easter,' when it's actually Easter day, or 'Christ is Risen!' if you're hardcore, I guess. But until then it's kind of confusing: there's a lot of different stuff going on in Holy Week. You could get whiplash."
           Think about it. During Holy Week, we wave palms in the air and hail Jesus as king, the long-awaited messiah who's going to save us from our oppressors, then we change our minds and scream that the oppressors should crucify him; we share a loving last supper with Jesus and he washes our feet, then we sneak out after dinner and betray him. Jesus begs us to stay with him, we promise we will, then we don't. We abandon him, he's arrested and beaten; he forgives us, then we run away. Then Jesus is killed; we lay him in the tomb and weep; we go back for him, then he's gone, then he's back, and then — wait! — he's not dead at all.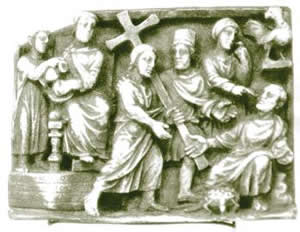 No wonder we need so many props and readings and songs and costume changes even to begin to tell the story. No wonder Holy Week can feel like symbolic and rhetorical overload, not to mention whiplash, what with the palms and the Passover, the royal banners and the moth-eaten clothes, the celebratory feasts and the solemn fasting, the wails of lamentation and the ecstatic singing. What is anyone supposed to say about it all —'Happy Holy Week?'
           No wonder the world prefers bunnies.
           But don't be afraid. There's a lot going on at this time of year, but that's because underneath it all the Holy Spirit is once again gathering God's people — as she always does — to witness to Christ, to receive Christ, to be Christ.
           We witness to Christ in song and story throughout Holy Week. On Palm Sunday at my church, we go outdoors and process through the streets with our palms and loud songs, sometimes feeling a little foolish in this secular, gentrifying city. We call out the name of Jesus and cense the new high-tech condos on the corner. We stop in front of a Whole Foods store, and read the ancient prophets aloud — testifying to the real whole food, the bread of life, the body and blood of Jesus we carry with us.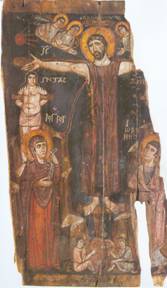 We receive Christ throughout Holy Week, too — even when our sin-sick souls or sorrowing hearts try to push him away. On Palm Sunday, our sanctuary's always draped with bright banners and huge palm branches, and set with tables for an extravagant early-morning feast. For the last ten years, this breakfast has been organized by a man who's now dying in hospice. He can no longer walk or speak or eat, and I thought this year maybe we should call the feast off. But others insisted on cooking, and some kids offered to serve and wash dishes, and after the service others are going over to sing hosannas at our brother's hospice bedside — in thanksgiving for these God-given lives, with their sweetness and pain.
           And so we become Christ. We bless the one who comes in the name of the Lord. We receive as King the servant who gives us everything — his blood, his flesh, his breath, his spirit, his breakfast pancakes. We forgive ourselves and each other; we serve, we enter his suffering; we offer our whole selves to God and each other so that we can prepare to die and be reborn with him.
           There's no way to contain the mystery of Holy Week in a greeting card; there's no way to convey the immensity of the Passion through even our most over-the-top, week-long, complicated liturgies. But beginning on Palm Sunday, we have the opportunity once more to witness, receive, and be Christ. Whether we're walking through the spring sunshine in our neighborhoods, or waiting and worrying by a bedside in the dark hours before dawn; whether we're rejoicing in the birth of a child or grieving a loss, we are not alone. He is drawing us nearer to each other, nearer to God, and nearer, always, to Easter.
---
Image credits: (1) Christopher Haas, Department of History, Villanova University; (2) Museum of Antiquities, University of Saskatchewan; (3) Robert W. Brown, Dept. of History, University of North Carolina Pembroke; (4) Jugoslav Ocokoljić; and (5) Chiesa Cattolico di Torino.