Stop Pretending:
From Lenten Ash to Easter Light
A guest essay by Sara Miles (http://www.saramiles.net/). Sara is Director of Ministry at St. Gregory of Nyssa Episcopal Church in San Francisco (http://www.saintgregorys.org/) and the author of Take This Bread and Jesus Freak: Feeding Healing Raising the Dead.
Palm Sunday or Passion Sunday
Sixth Sunday in Lent 2011
For Sunday April 17, 2011
Lectionary Readings (Revised Common Lectionary, Year A)
Isaiah 50:4–9a
Psalm 31:9–16
Philippians 2:5–11
Matthew 26:14–27:66 or Matthew 27:11–54
Just about forty days ago, I walked with a dozen people in black cassocks around the busy, crowded center of the Mission District in San Francisco. Carrying little jars of ashes made from the burned-up palms of last year's Palm Sunday, we went into dollar stores, taquerias, alleys, bakeries, bars, the parking lot where gangbangers deal dope, offering ashes to everyone we saw. "Remember you're dust," I'd say, in English or Spanish, "and to dust you shall return."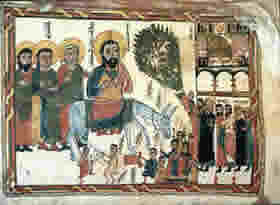 I touched hundreds and hundreds of faces: a guy in a pickup truck at the light, a girl on a tricycle, an elderly woman getting her hair done. McDonalds was crowded with teenagers and fry cooks and families buying cheap fast food, and people reached out to us. A woman unwrapped her tiny baby, a week and a half old, and held him up. I crossed his forehead with ashes, and took a deep breath, and told the baby he was going to die. And then his mother, like every single person who leaned forward to receive ashes that day, said: thank you.
Why would you say "thank you" when a stranger tells you you're going to die? Because it's the truth. And ashes on skin show that, despite all the lies of our culture, nothing is hidden, or pretend, or made-up anymore. We are walking, the Gospel tells us, in the light.
Today, forty days later, most churches will process outside again with palms, to see once more if we can face the truth. And this time Jesus will be raising the stakes. Because it's not just facing our own mortality — Palm Sunday means acknowledging how we try to kill our God.
Palm Sunday is often combined with Passion Sunday: from the Latin passio: to suffer. God's passion is the conscious suffering that Jesus willingly takes on when he rides the donkey up to Jerusalem, is honored as a king, and then in short order is betrayed by his friends, tortured, and executed. The compassion, suffering with, that Jesus models through it all is about the willingness to face and absorb the hard truths of human violence and pride and weakness — and to love and forgive and stay with us anyway, so that sin and death will have no more power. His passion is not sentimental, but fierce. It goes all the way.
Following Jesus on this path to new life means we have to stop pretending. The truth is that your baby will eventually die. That you can't always prevent the pain of your family or friends. That loved ones as well as strangers will betray you. And that you will hurt and fail others.
That's the passion of humanity. Today, may we see it with Jesus' compassion, forgiving and loving as he does. As we process outside our churches, may we see how much we have in common with all of Jesus' beloved people: the shoppers at the supermarket and the nonbelievers at the bus stop and every random person who happens to be doing errands on Palm Sunday — each bearing her own cross. May we see how much we are like the crowd who hails Jesus with palm branches, then screams for his death. May we face the beauty and sadness of humanity — and not turn away.
And so we walk out of the ashes, out of Lent, out the doors of church, into the suffering world. Walk in the light, children, run toward the crazy blazing light of Easter. Every terrible thing we've done, every mistake, every hurt is redeemed: and life, eternal, is all around us. Thank you.
---
Image credits: (1) Christopher Haas, Department of History, Villanova University; (2) Museum of Antiquities, University of Saskatchewan; (3) Robert W. Brown, Dept. of History, University of North Carolina Pembroke; (4) Jugoslav Ocokoljić; and (5) Chiesa Cattolico di Torino.