Book Reviews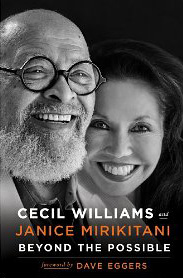 Cecil Williams and Janice Mirikitani, Beyond the Impossible (New York: HarperOne, 2013), 313pp.
           When Cecil Williams (b. 1929) became the new pastor of Glide Memorial United Methodist Church in San Francisco in 1963, the church had dwindled to thirty-five white people. Founded in 1929 in the city's infamous Tenderloin district, described by Williams as "the last circle of hell" with its adult book stores, flop houses, and drug dealers, the church was teetering on the precipice of closure. A year after Williams came, Glide hired a local grad student named Janice Mirikitani (b. 1941) as a typist. The members of the church disliked the new firebrand Williams, walked out of his services, and begged the bishop to remove him.
           That was then. Today Glide has 11,000 members, an annual budget of million, a staff of 175, 25,000 volunteers every year, and close to a hundred fully staffed programs. People from all over the world visit Glide. It's on the short list for San Francisco tourists to visit, and a regular destination of the rich and famous. The publication of this book coincides with Williams's 50th year of ministry at Glide in 2013. He and Mirikitani take turns writing chapters to tell the story of how they reinvented Glide to serve "the poor, the disenfranchised, the homeless, the addicted, the mentally ill, the newly immigrated, and the politically passionate."
           This story is equal parts inspiration, provocation, and controversy. Glide removed the cross from the sanctuary since they viewed it as a symbol of oppression, and sanitized the service of all "church mythology." They hosted the first hookers' convention and jump-started the first prostitutes' union. Way back in 1964 they sponsored the first ever conference on homosexuality and the clergy. They supported the Black Panthers. Williams was jailed dozens of times for his protests. Driving all this "organized chaos" was a carefully articulated vision of radical inclusion or "self-definition" in which, says Williams, "YOU are the answer to your own questions."
          Williams grew up in a loving family in Texas, and graduated with his MDiv from the then all-white Perkins School of Theology at SMU. His grandfather was a slave and his father a janitor. Mirikitani grew up in a dysfunctional home that was imprisoned in America's Japanese internment camps. She was four when her family was released after three-and-a-half years. In addition to internment, hers is a story of incest. In my favorite chapter, this black Texan egomaniac and deeply insecure Japanese agnostic share candidly about how they have made their unusual marriage and ministry work in the glare of the national limelight. One thing's for sure — if you're ever in San Francisco on a Sunday morning, don't miss the opportunity to visit Glide; you'll be glad you did.