Book Reviews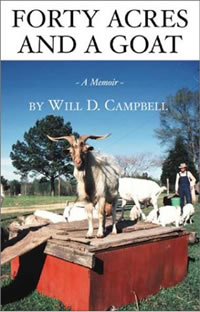 Will D. Campbell, Forty Acres and a Goat: A Memoir (Oxford, Mississippi: Jefferson Press, 2002), 281pp.
When he was seven years old Will Campbell (b. 1924) decided that he would be a preacher. Ten years later he was ordained, then took a pastorate at a small church in Louisiana. "It just didn't work out," he writes. Nor did his stint as Director of Religious Life at the University of Mississippi, where his views on civil rights were far too radical, nor after that his assignment with the National Council of Churches. He thus found himself with "a call but no steeple," a sense of failure, doubt about himself (but not about his call), and "a penchant for self-destruction." What to do?
In this memoir Campbell tells how he regrouped on a rundown two-hundred year old farmhouse with forty acres and a goat named Jackson. There in rural Tennessee he has flourished as a Christian anarchist and rabble rouser. He's farmed, wrote nearly twenty books, hosted a steady stream of troubled people both famous and unknown, wrote country music, visited the sick and the imprisoned, and continued his curmudgeonly protest against the principalities and powers. If you were raised in the south as I was, have an interest in the civil rights movement, or want to enjoy one of the most irreverent Christians ever to irritate the church, then read Will Campbell. He was born and raised in the rural and very poor deep south of Amite, Mississippi, "ordained" by family members at a local Baptist church when he was seventeen, and, in a delightfully improbable life, played a central role as an activist and agitator on behalf of African Americans. In 1957, Campbell was one of four people who escorted the nine black students who integrated Little Rock's Central High School; and he was the only white person to attend the founding of the Southern Christian Leadership Conference by the Rev. Martin Luther King, Jr. But he also made nice and sipped whiskey with the KKK Grand Dragon of North Carolina, believing that God's indiscriminate love embraces all of us without exception or conditions.
Will Campbell loves a good chew of tobacco and will strike many as enigmatic. Not everyone will appreciate his rapier wit. But PBS profiled him in their documentary "God's Will," in 2000 President Clinton honored him with a National Endowment for the Humanities medal, and his book Brother to a Dragonfly won numerous literary awards.