Book Reviews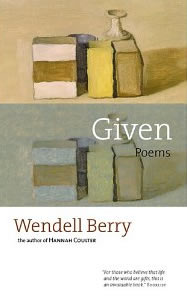 Wendell Berry, Given: Poems (Emeryville, CA: Shoemaker Hoard, 2005), 152pp.
           Wendell Berry was born in 1934 to a family that had farmed Kentucky land for five generations. After studies and travels took him to the University of Kentucky, Stanford, France, Italy, and the Bronx, in 1965 he bought his own farm near his birth place. He's been been tilling the earth and churning out books ever since then. Over fifty books of poetry, novels, essays, and short stories have earned him numerous awards as one of the leading truth-tellers of our day. When it was published in 2005, Given was Berry's first collection of new poems in ten years. It has since been followed by Leavings (2010) and New Collected Poems (2012).
           Readers will find here the same sort of poems that have characterized his work for fifty years: lament, outrage, prayers, love, gratitude, dreams, and a pronounced localism convinced of the power of place. In that sense there are no surprises; he has stayed true to a consistent vision. Especially noteworthy is the inclusion of eight years of his "Sabbath Poems" (1998–2004), a series of poems Berry started writing long ago based upon his Sunday walks on his farm.
           Berry is known for his curmudgeonly outlook. He laments "idiot luxury," "our economy of greed," "fantasy capitalism," "fashionable lies," the destruction of mountains to mine coal, idiot politicians, the violence of war, and all manner of machines like cars and planes. In "Some Further Words" he admits that he's "an old-fashioned person" who "likes the world of nature despite its mortal dangers." Not a few people see him as an environmental extremist. But he's not a negative person as he explains in his little poem "Why." "Why all the embarrassment / about being happy? / Sometimes I'm as happy / as a sleeping dog, / and for the same reasons, / and for others." He's still searching, he says, for "a language that can make us whole" and help us to live as "true human beings."