Book Reviews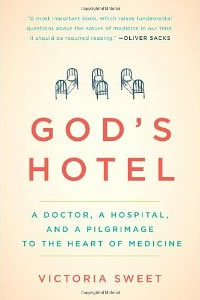 Victoria Sweet, God's Hotel; A Doctor, A Hospital, and a Pilgrimage to the Heart of Medicine (New York: Riverhead Books, 2012), 372pp.
           When Victoria Sweet first came to Laguna Honda Hospital in San Francisco, a colleague remarked to her, "we'll never have it so good." That was counter-intuitive wisdom, to say the least. Laguna Honda was an almshouse, by some accounts the last one in the nation. It was the end of the line where the poorest of the poor went for medical care because no place else would take them. The building itself was an architectural throwback to a bygone era of practicing medicine, with a spectacular hilltop view of the ocean, open wards, solariums, a barnyard, greenhouse, and aviary. The paint was peeling, the plaster cracked, and doctors still used index cards for patient records. As a city-run hospital, Laguna Honda was also subject to all the bureaucracy and idiocy of regulatory agencies, not to mention hardball local politics and personalities.
           Sweet went to Laguna Honda for two months as a young doctor, and has now been there for twenty years. In addition to her medical degree, she also did a PhD in the history of medieval medicine, specifically, a study of the 12th-century Benedictine nun Hildegaard of Bingen, who wrote an obscure medical text. For Sweet, Hildegaard's pre-modern medicine provides an important corrective to our contemporary model of "delivering health care." The latter is mechanistic and sees the human body as a machine. That's good as far as it goes, and Sweet doesn't disparage the many miracles of modern science. But the body is more than a machine, and Hildegaard reminds us of the importance of a vitalism that modern medicine banished long ago.
           Laguna Honda and its unique patient population taught Sweet many important life lessons. Her memoir includes numerous case studies of her patients, much like the many books of Oliver Sacks. She advocates Slow Medicine that's wholistic, in contrast to Modern Health Care with its bottom line focus on efficiency and profit. There are, she says, efficiencies in inefficiency, and vice versa. This is medicine as a spiritual craft to be practiced and not just a commodity to be sold. In the end, she realizes just how right her colleague was. And so she concludes on the next to the last page, "Being in that old hospital changed my life."