Book Reviews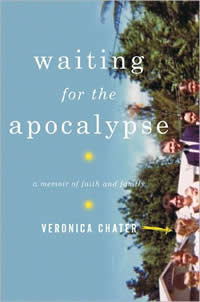 Veronica Chater,
Waiting for the Apocalypse; A Memoir of Faith and Family
(New York: WW Norton, 2009), 330pp.
For Lyle Arnold, Jr., the aggiornamento or modernizations of Vatican II were not fresh winds of change but "the smoke of Satan," the biggest sin against God, the True Church, and humanity since the crucifixion itself. Arnold is a former Marine of fanatical faith who is, quite literally, waiting for the Holy Chastisement revealed in the Marian apparitions to the three children of Fatima, Portugal (1917). He's spent his adult life in a self-styled "counter-revolution movement" to return the Catholic church to its original purity.
Veronica Chater's memoir about her father's faith begins funny enough; it's an incredibly bizarre story, told at first from her perspective as a ten-year-old. Arnold quits his job, sells all their possessions, and moves his family to Fatima to live amongst "true" Catholics. It only takes a few months before they are penniless and have discovered that the Portuguese are quite happy with Vatican II. Once back in California, the kids are enrolled in a tiny sectarian school that requires a 100-mile roundtrip every day. Arnold bounces around menial jobs and organizes his own Latin Mass in a department store, then in a trucking garage, and finally in their own home. Brothers were sent packing to extremist boarding schools to prepare for the cause. Dad travels to Brazil to connect with fellow counter-revolutionaries and import the fight back to America.
Somewhere in this narrative an ominous sense creeps in, as if we're watching a horrible accident materialize in slow motion. The apocalypse does come, and with a predictable vengeance. The whole family pays a steep price in bitterness, resentments, banishment, drugs, teenage sex, and school drop-outs. In the last pages the Arnold family of fifteen — wife Marty, eleven children, an aunt, and a grandchild born to their teenage daughter, are all living in a dilapidated three bedroom/one bathroom house. Hell has descended to earth in Arnold's kamikaze quest for heaven. His honorable intentions, dictatorial faith, religious earnestness and sheer stupidity all backfired, of course. Only one of his eleven children remains a practicing Catholic.
The most remarkable thing about Chater's memoir is her magnanimous tone. She writes as a dutiful daughter who is generous enough in her acknowledgements at the end of the book to write that "I do not wish to leave readers with the impression that my family's story is a tragedy." She then thanks her father "with all my heart," and you know that she means it. She also tells the truth, especially about her heroic and devoted mother who died as she worked on this book. This is a story of how deep love can inflict horrible damage, but nevertheless told with wit, wisdom, and even a hint of whimsy.