Book Reviews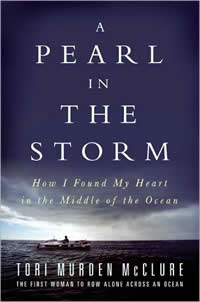 Tori Murden McClure,
A Pearl in the Storm; How I Found My Heart in the Middle of the Ocean
(New York: HarperCollins, 2009), 292pp.
After three years of training, on June 14, 1998, Tori Murden McClure left Cape Hatteras, North Carolina in an effort to become the first woman to row solo 3,600 miles across the Atlantic Ocean to France. Her twenty-three foot boat, the American Pearl, had no motor or sail, but was equipped with solar panels, a water desalinizer, a laptop computer, a GPS device, a satellite phone, and a ten-pound trove of favorite books. She carried 150 pounds of food for the 100-day journey. The feat unfolds about like you'd expect, with McClure rowing twelve hours a day and battling winds, weather and the currents. Pods of dolphins, numerous whales, a shark or two, jelly fish, garbage, and the occasional cargo ship broke the boredom of the open sea.
McClure bristles numerous times at the obvious and honest question: why would anyone undertake such a dangerous feat? In the first few pages she gives her own answer: "Through solitude and exposure to uncertainty, I believed I would confront my demons. Beyond this confrontation, I expected to find a doorway to some higher intellectual awareness." All this after graduating from Smith College and Harvard Divinity School, and skiing 750 miles to the South Pole. In language from the latter parts of the book, McClure was on the "hero's path" to "slay my dragons." Her story sounds like that of a highly talented and deeply insecure performance junkie who continually needs to prove herself to herself and others.
When she was caught in Hurricane Danielle ninety days out and 1,000 miles from France, she finally requested a rescue with her EPIRB (Emergency Position Indicating Radio Beacons). For McClure this represented the epitome of shame, failure and tragedy. And so exactly one year after she landed in Philadelphia on the rescue cargo ship, she left the Canary Islands bound for Guadeloupe in the Caribbean in order to slay those dragons by rowing from east to west. She would not be known as the woman who "failed." But what she learned on that successful trip, how she "found her heart in the middle of the ocean," was through embracing her helplessness rather than by chasing heroism (p. 280). The moral of her story reminded me of a great line from Cool Running, the movie about Jamaica's first Olympic bobsled team: "If you're not somebody without winning the gold medal, you won't be somebody with it."