Book Reviews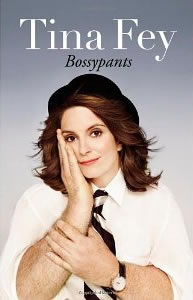 Tina Fey, Bossypants (New York: Little, Brown and Company, 2011), 277pp.
Before reading this book, I knew little about Tina Fey (born 1970) except for her impersonation of Sarah Palin on Saturday Night Live in the fall of 2008 that spread like wildfire on the internet (58 million views). And don't forget, the real Sarah Palin joined Fey on the show a few weeks later. After reading the book, I still knew very little about Fey, and that was a disappointment. This book is an "autobiographical comedy" and not a memoir; only rarely does Fey exchange her comedic persona for personal candor (mainly when she reflects on discrimination against women in the workplace). With that caveat, this is a great read for the beach or your next plane ride.
Fey describes her middle-class upbringing as the younger of two kids in a Greek family in West Philadelphia. Her father was a "Goldwater Republican." After graduating from the University of Virginia with a degree in drama, in 1992 she moved to Chicago and landed a job at the Second City Touring Company. She worked at a YMCA front desk by day and took improv classes at night. In 1997 she scored a writing job at Saturday Night Live, where she worked for nine years, after which she produced the Emmy Award-winning television comedy series 30 Rock. Fey's chapters include "Twelve Tenets on Looking Amazing Forever" and "Things I Learned from Lorne Michaels." She takes us backstage for a magazine photo shoot, which provokes a riff on the pros and cons of photoshopping. The live Palin skit came the night after she had spent a 12-hour day doing a shoot with Oprah for 30 Rock. Maybe Fey will write something more reflective in the future; in the mean time, enjoy her for who she is — a hugely talented and funny cultural icon.