Book Reviews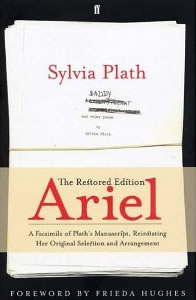 Sylvia Plath, Ariel, the Restored Edition; A Facsimilie of Plath's Manuscript, Reinstating Her Original Selection and Arrangement (New York: HarperCollins, 2004), 213pp.
           Two years after Sylvia Plath (1932–1963) died by suicide, her husband and poet Ted Hughes edited and published a collection of forty of her unpublished poems under the title Ariel. As Frieda Hughes, daughter of Plath and Hughes, explains in her brief introduction, the edition published by her father was "a somewhat different collection from the manuscript my mother left behind." Hughes removed about a dozen poems from Plath's lineup and replaced them with a dozen different poems that were also part of Plath's final work but nevertheless distinct from the poems for Ariel. This book, then, "exactly follows the arrangement of her last manuscript as she left it." In addition to the facsimiles of Plath's original manuscript that make up the second half of the book, there are also facsimile drafts of the poem "Ariel" (one of which is handwritten), along with two appendices — the poem "The Swarm" and its facsimile, and then a script of the BBC broadcast New Poems by Sylvia Plath. The facsimiles include Plath's own hand-written editing-in-progress.
           Frieda Hughes defends her father ("who quietly and lovingly brought me up") from the vilifications he received for his own version of Ariel, and even for his ownership of the copyrights, which she points out he used to care for her and her brother. Some of the poems that he eliminated "dismembered" family members with "extreme ferocity." The poems he added gave a broader perspective. Says the daughter of her father: "My father had a profound respect for my mother's work in spite of being one of the subjects of its fury. For him the work was "the" thing, and he saw the care of it as a means of tribute and a responsibility." Nor was her mother a saint, despite her "elevation to the feminist icon." Worse, in Hughes' mind, "the point of anguish at which my mother killed herself was taken over by strangers, possessed and reshaped by them." Plath's suicide was not "the total sum of her experience," but only one aspect of "the many complex layers of her inner being."