Book Reviews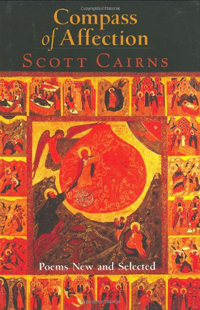 Scott Cairns, Compass of Affection; Poems New and Selected (Brewster, MA: Paraclete Press, 2006), 161pp.
           Scott Cairns (b. 1954), the Catherine Paine Middlebush Chair in English at the University of Missouri, has won numerous awards for his dozen books of poetry, memoir, essays, and translations. This book is no longer "new," but that's besides the point. It collects 85 poems from four of Cairns' previous books from 1985 to 2006. Cairns is a convert to Eastern Orthodoxy, and that spiritual passion is evident in his poetry. These poems challenge both mind and heart. He's also a savvy social critic.
           Readers can decide for themselves, and there's no accounting for personal taste, but Annie Dillard graces the dust jacket of this book with this blurb: "Scott Cairns is one of the best poets alive." Among Cairns' many other books, readers might also enjoy Idiot Psalms: New Poems (2014), a collection of 53 new poems; and Endless Life; Poems of the Mystics (2007, 2014), which includes 116 "adaptations and translations" (paraphrases?) of the writings of 37 Christian mystics.