Book Reviews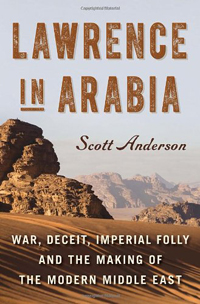 Scott Anderson, Lawrence in Arabia; War, Deceit, Imperial Folly, and the Making of the Middle East (New York: Doubleday, 2013), 577pp.
           Colonel Thomas Edward Lawrence, "Lawrence of Arabia" in popular imagination (and cinema), was Britain's most legendary hero of World War I. He was also an enigmatic and controversial figure. To this day Lawrence has his detractors and his lionizers.
           He disdained military protocol. He committed treason supporting the Arab Revolt against the Ottoman Turks. He was cynical about the lies, the propaganda, and self-aggrandizement of his country. Fluent in Arabic, famous for his physical stamina, an Oxford archaeologist turned desert warrior, and a celebrity author of a post-war memoir (Seven Pillars of Wisdom), he considered himself a failure and a fraud for how France, Britain and the United States carved up the former Ottoman Empire. At the age of 30, in a private ceremony before the King and Queen of England to make him a Knight, he refused the honor and stunned his audience when he walked out.
           Scott Anderson tries to separate the facts from the fiction, and when that's not possible, he explains why. His book is primarily a biography of Lawrence's role in the Middle East theater of WWI. But it is also a group biography of three other major actors. The American William Yale worked for the Standard Oil Company gobbling up oil concessions while everyone else was at war. He became the primary intelligence asset for the United States in the Middle East. Curt Prüfer was a German spy. Aaron Aaronsohn was a brilliant agronomist, fluent in six languages, prominent Zionist, and leader of a Jewish spy ring.
           Lawrence's story plays out on a larger canvas — the Turkish genocide of 800,000 Armenians, the Balfour Declaration supporting a Jewish state, the fall of the 600-year old Ottoman Empire, the Bolshevik Revolution that overthrew the Russian Empire, the ruthless quest for oil, and the slaughter of 16 million people. Anderson is unsparing in his prose about the bureaucratic incompetence, the imperial hubris and ignorance, the violence of war that is dehumanizing rather than heroic, the complexity of Middle East tribal cultures, and the lessons still not learned even today by westerners. His book was on many of the "Best of 2013" lists.