Book Reviews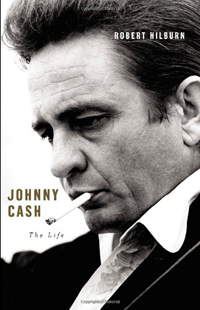 Robert Hilburn, Johnny Cash: The Life (New York: Little, Brown and Company, 2013), 679pp.
           Almost everyone who was close to Johnny Cash (1932–2003) wrote their memoir — his two wives, his son John, his daughter Roseanne, and his bass player of twenty-five years, Marshall Grant (who once wondered aloud how someone could be so talented, so inspirational, and so screwed up). Cash himself wrote two autobiographies (1975, 1997). There's a mountain of secondary sources. Is there any need for another book about Cash? Robert Hilburn, the music editor of the LA Times for thirty-five years, put this question to Lou Robins, who managed Cash for twenty-five years. When asked how much of the Johnny Cash story had been told, Robins replied, "only about twenty percent."
           Cash himself wanted his full story to be told, and admitted that his two autobiographies failed in that regard. Hilburn captures the many contradictions in Cash, beginning with his childhood picking cotton in rural Arkansas, to his super stardom as a cultural icon. He is unsparing in his depictions of Cash's drug addictions, womanizing, no-shows at numerous concerts and recording sessions, arrests, and the havoc and heartbreak that he caused his family. He also does an excellent job of depicting the many challenges that an artist must negotiate — balancing artistic integrity and commercial viability; remaining creative; conflicting advice from corporate executives, producers, managers, friends, and family; physical and mental exhaustion from a grueling life style; all the people who want a part of you; and always wondering who you can trust.
           Hilburn returns time and again to the bass line of Cash's life — his unapologetic Christian faith, which irritated so many people. How could someone so profligate be so pious, people asked? According to Hilburn, Cash's faith was always the genuine article and never a commercial ploy. He read the Bible daily, made a recording of the entire New Testament, took an online study course, and appeared in three dozen Billy Graham crusades. Near the end of his life, Cash cut two songs that punctuated this point. There's Hurt, which some have hailed as the best music video ever, and has had 60 million online views. Then there's When the Man Comes Around, which Hilburn calls "the ultimate statement he was seeking."
           The latter song is about the second coming of Christ and the Last Judgment. Its origins go back to a 1993 dream in which the queen of England told him, "Johnny Cash, you're just like a thorn tree in a whirlwind." In an interview with Hilburn, Cash confided his regrets about not being a better husband and father to his five children, a better Christian, and even a better musician. "I needed help to make that last record, and I'm not just talking about Rick [Rubin] and the others. I called upon Jesus. He stood with me. I can never praise Him enough for all his blessings. But I tried to praise Him with The Man Comes Around. If someone is still listening to my music fifty years from now, if someone is listening at all, I hope they're listening to that song."