Book Reviews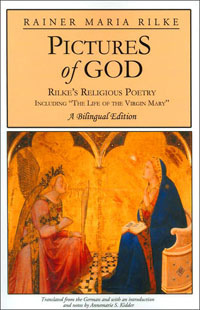 Rainer Maria Rilke, Pictures of God; Rilke's Religious Poetry, a bilingual edition translated from the German, with an introduction and notes, by Annemarie S. Kidder (Livonia, Michigan: First Page Publications, 2005), 158pp.
In recent years many critics have come to admire Rainer Maria Rilke (4 December 1875 in Prague, Austria-Hungary – 29 December 1926 in Valmont (Switzerland)) as the German language's greatest poet of the 20th century. After he died of leukemia at the age of 51, the critical edition of his collected works in German eventually filled 12 volumes. More modest readers like myself, then, will be grateful for Kidder's original translations of sixty-one of his religious poems that cover a thirty-year period of his life. She previously translated Rilke's book The Book of Hours; Prayers to a Lowly God (Northwestern University Press, 2001).
Rilke grew up in an unhappy home, including a brief stint in a military academy. From very early he always knew that his life was meant for literature, poetry, and writing. His mother was zealously Catholic and outwardly pious, according to Kidder, both of which backfired on Rilke who rejected such displays as "grotesque and meaningless." Instead, Rilke cultivated an "inward piety" that in his poetry explored the problems and possibilities of religious faith in an age of unbelief and personal anxiety. "A frequent theme," Kidder remarks, "is the human heart's insatiable longing for the transcendent, the divine," which for Rilke expressed itself in religious proclivities that were decidedly unorthodox.
After her brief introduction, Kidder organizes Rilke's religious poetry according to five themes: God, The Virgin Mary, Jesus Christ, The Pilgrimage, and Poverty. The lefthand page contains the original German, and the right side her translations, accompanied by brief notes about the possible time, place, and origins of the poems. In addition to the Christian story, Greek mythology figured large as a source for Rilke's poetic imagination. Rilke readers new and old can now enjoy the first-ever collection of his specifically religious and Biblical poetry thanks to Kidder's expertise.