Book Reviews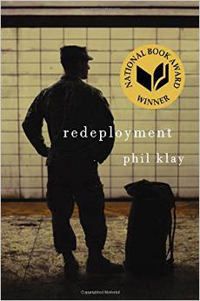 Phil Klay, Redeployment (New York: The Penguin Press, 2014), 291pp.
By Dan Clendenin
           Phil Klay's first book, a collection of short stories about the Iraq war, won the 2014 National Book Award for fiction. According to the judges, the book is a "brutal, piercing sometimes darkly funny collection" that "stakes Klay's claim for consideration as the quintessential storyteller of America's Iraq conflict."
           After graduation from Dartmouth, where he attended Officer Candidate School, Klay (b. 1983) joined the US Marine Corps. He served for thirteen months in the Anbar Province of Iraq during the surge, and then subsequently earned an MFA from Hunter College. One of the reasons he wrote these stories is because of his concern about "the gap between public mythology and lived experience," and "how that affects both veteran-civilian dialogue and the veteran self-perception." One critic described Klay's stories as "a clinic in the profanities of war."
           In "Operation Scooby," a soldier shoots dogs that are eating the rotting corpses that litter Iraqi streets. "Frago," an acronym for "Fragmentary Order," illustrates the bureaucratism of the military and war: "EOD handled the bombs. SSTP treated the wounds. PRP processed the bodies. The 08s fired DPICM. The MAW provided CAS." In "After Action Report" a soldier takes the blame when his buddy shoots an Iraqi kid. In "Bodies" we enter the world of Mortuary Affairs, and in "OIF" we see the breathtaking stupidity of American civil reconstruction projects — like fifty baseball uniforms shipped to Iraq to teach them "sports diplomacy." It turns out the uniforms are sized for ten-year-olds.
           My favorite story was "Prayer in the Furnace," about a chaplain who tries to parse war and theodicy. He resorts to quoting St. Augustine sermonizing about the sack of Rome: "Horrible it was told to us; the slaughter, the burning, the pillaging, the torture of men. It is true, many things we have heard, all filled with bellowing, weeping, and hardly were we comforted, nor can I deny, no, I cannot deny we have heard many, many things were committed in that city." The New York Times listed Redeployment as one of the Ten Best Books of 2014.