Book Reviews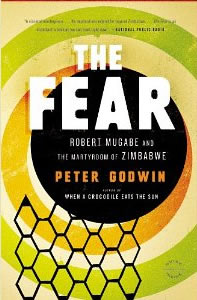 Peter Godwin, The Fear; Robert Mugabe and the Martyrdom of Zimbabwe (New York: Little, Brown and Company, 2010), 371 pp.
           Peter Godwin has reported from sixty countries as a foreign correspondent, but in this book he returns to his childhood home of Zimbabwe, where his father was an engineer and his mother was a physician for forty years. That was back in the complicated days when Zimbabwe was the British colony of Southern Rhodesia. After protracted wars, in 1980 the African nation won its independence and Robert Mugabe (b. 1924) was elected president. He's still president, and the world's oldest leader.
           Zimbabwe once enjoyed one of the highest standards of living in Africa, including a literacy rate of 92%, but under Mugabe's thirty year reign of terror, the country has redefined state dysfunction. Unemployment is 94%. Life expectancy has plummeted from sixty to thirty-six. One third of the population has fled the country. Schools and hospitals have little water, electricity, books or medicine. Hyperinflation has made their currency worthless. The monthly electricity bill for one of Godwin's friends was 5 trillion Zimbabwean dollars. The country has a one trillion dollar note (the largest in the world).
           But that's not the worst part. Godwin's book is a startling expose of Mugabe's torture state, especially as that was unleashed during the presidential and parliamentary elections of 2008. Election results were withheld for weeks, then it was declared that the opposition leader Morgan Tsvangirai had not won enough votes to avoid a run-off. Tsvangirai refused to participate in that run-off, Mugabe won, and eventually the parties signed a power-sharing agreement in which Mugabe remained president and Tsvingirai became prime minister.
          Whether the arrangement was a necessary compromise, the best Tsvingirai and his Movement for Democratic Change could get, or a continuation of Mugabe's dysfunctional autocracy, is debatable. What is not debatable is the industrial scale torture, intimidation, and violence that Mugabe unleashed against his political opposition. Godwin's documentation includes first hand narratives from all the players, including Mugabe's personal chaplain, the American ambassador, bishops, political leaders, artists, and, most important of all, the ordinary people who tell their torture stories. These eyewitness accounts make for traumatic reading.
           At first he found the phrase pretentious, but in the end Godwin writes: "I am bearing witness to what is happening here — to the sustained cruelty of it all. I have a responsibility to try to amplify this suffering, this sacrifice, so that it will not have happened in vain." Despite the darkness, what ultimately shines through is the bravery, dignity, resilience, and perseverance of a long-suffering people who love their country and still work for meaningful change.