Book Reviews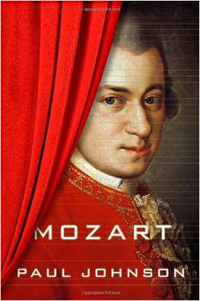 Paul Johnson, Mozart: A Life (New York: Viking, 2013), 164pp.
           With over forty books and numerous awards to his credit, the British Catholic Paul Johnson is one of today's pre-eminent historians, journalists, and public intellectuals. This book is similar to a half-dozen other short (200 pages or less) biographies that Johnson has written about Darwin, Socrates, Napoleon, Churchill, Jesus, and George Washington. As with these other figures, there are thousands of works about Mozart. He estimates about 2,000 books and upwards of 8,000 "Mozartian monographs" (pp. 53, 137). This book isn't a substitute for longer, critical works about Mozart, like those by Robert Gutman (1999) and Maynard Solomon (1995), but rather is a survey for a general audience.
           Johnson is a capable and confident scholar who writes with lively prose. There are no footnotes or bibliography. The book reads like a long essay. Johnson does offer his own corrections to standard Mozart history. Salzburg wasn't a backwater, he says, but enjoyed a strong music community. Mozart's father wasn't a tyrant but a devoted man who sacrificed his own career for his son. Nor was Mozart sickly, or a spendthrift with debt problems, at least not by the standards of that time and place. All his debts were promptly repaid after his death.
           For Johnson, Mozart was a joyful genius with a generous spirit. He concludes on the last page: "He had misfortunes and many disappointments in a life of constant hard work lived at the highest possible level of creative concentration. But his warm spirit always bubbled. He loved his God, his family, his friends, and above all, his work — which he equated with God-service — and that was all a reasonable man, or an unreasonable one, for that matter, could wish for. God bless him!"