Book Reviews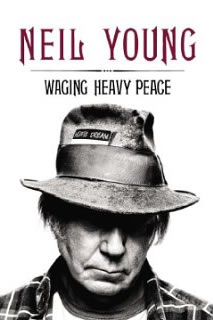 Neil Young With Crazy Horse, Psychedelic Pill (Reprise, 2011)
Neil Young, Waging Heavy Peace (Blue Rider Press, 2011)
           This fall Neil Young released a 2 CD studio recording, Psychedelic Pill, that charted in Billboard's top ten, and an autobiography, Waging Heavy Peace, a New York Times best seller. Young dedicates his book to his family: "For Ben Young, my Hero, my Warrior, and his mother, brother and sister."
           Young's hero-warrior is a quadriplegic who takes nourishment through a feeding tube. (His older brother Zeke had been diagnosed as having cerebral palsy but it was later determined that he suffered from a stroke in utero.) Neil and wife Pegi are devoted parents. Always a lover of trains, Neil built a huge Lionel train layout (hundreds of feet of track with multiple trains*) to enjoy with Ben — designing it so that Ben could work the switch system with his hand. In one of his least appreciated releases, Trans, Neil scrambled his vocals, mirroring the communication difficulties Ben faces.
           "Because of Ben's quadriplegia, he couldn't talk or communicate in a way that most people could understand, so I made a record where I sang through a machine and most people couldn't understand what I was saying either. I felt like it was art, an expression of something deeply personal. I called it Trans, meaning trying to get across from one world to another, being locked in a body without an intelligible voice, trying to communicate through the use of machines, computers, switches, and other devices. It was a very deep and inaccessible concept." (p. 284)
           Ben's mother Pegi founded the Bridge School to help children with communication disorders.
           Young himself has not had an easy time of it. As a child he battled with polio, and as a young man he had epileptic seizures. More recently he survived a brain aneurysm. After seeing his sportswriter father, Scott Young, go into dementia at the end of his life, trying to avoid a similar fate, Young gave up marijuana and threw in drinking for good measure. He is straight for the first time in decades and a bit concerned that sobriety may cast a pall on his ability to write songs. As the book's position on the New York Times best seller list attests, it has not interfered with his ability to write a memoir.
           Young assures us that he could never, and would never, work with a ghost writer. What we have in Waging Heavy Peace is Neil Young's voice without the tampering of a co-author. This is in keeping with Young's approach to recording, often preferring first takes to more polished versions of songs.
           Young's latest recording, Psychedelic Pill, is a worthy soundtrack for this autobiography, picking up on themes in the book. The most restrained number, "For the Love of Man," reflects on those who are born "different." Ben and Zeke Young come to mind. In "Twisted Road" Young describes the transformative experience of hearing Dylan's "Like a Rolling Stone." And, in the expansive opening track, "Drifting Back," Young vents his anger and frustration over the poor quality of music available on MP3s. This 27-minute opening cut is heaven itself to fans of Neil Young's work with Crazy Horse. Those who prefer the kinder, gentler Young of Harvest and Silver and Gold should keep their distance. Psychedelic Pill is classic Young-Crazy Horse jamming, with plenty of Young's signature pyrotechnics. Neither this song, nor "Ramada Inn," just shy of 17 minutes, needs pruning. The chemistry between Young and Crazy Horse is working and we can only be grateful that Young saw fit to release a 2-CD set, 87 minutes of music.
           "When music is your life, there is a key that gets to you to the core. I am so grateful that I still have Crazy Horse, knock on wood. You see they are my window to the cosmic world where the muse lives and breathes. I can find myself there and go to that special place where those songs graze like buffalo. The herd is still there and the plains are endless." (p. 137)
*http://6thfloor.blogs.nytimes.com/2012/09/19/well-hello-mr-soul/