Book Reviews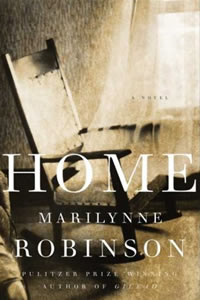 Marilynne Robinson, Home (New York: Farrar, Straus, and Giroux, 2008), 325pp.
In her Pulitzer Prize winner Gilead, named the #1 fiction book of 2004 by the New York Times, Marilynne Robinson told the story of Pastor John Ames, a fourth generation Congregationalist pastor in Gilead, Iowa. More exactly, she allowed Pastor Ames to tell his own story, for the book is a 240-page letter from the 76-year-old Ames to his seven-year-old son. In the letter Pastor Ames looks inwardly to untangle how his present reality in his old and feeble years relates to whatever constitutes Ultimate Reality. Parts of his letter also fret about "the beloved child of my oldest and dearest friend." That would be "Jack" (John) Boughton, son of Gilead's Presbyterian pastor, Robert Boughton, who is named after Ames himself.
In a parallel but independent story, Home takes us back to Gilead in the 1950s. Glory, age 38 and the youngest of eight Boughton children, has left her teaching job in Des Moines and returned to Gilead to care for her aged and feeble father, Robert. She's deeply lonely and never married, although we learn she does have a romantic past. As a good pastor's kid, she still reads her Bible, and since Robert is a widower, Glory takes charge of all things domestic. Without explanation, the black sheep of the family, Jack, returns home after a twenty year absence. Jack is 43, an alcoholic, a thief who has spent time in prison, a miscreant who fathered a child out of wedlock, and, worst of all for his loving father, a decided non-believer. But Jack knows the Scriptures better than most, he plays hymns for his father, and he has a broken heart for an unlikely woman who did him nothing but good. He's come home seeking reconciliation. But that is easier said than done.
The Bible's parable of the prodigal son is far neater than this family's story. "It's a powerful thing, family," says Robert (176). Indeed, it is, especially when your family is a pastor's family brimming with Presbyterian probity and earnestness, a family that is good in order to look good. "Such a wonderful family they were!" (7). But there are no villains in this story. Father Robert is tired, sad, and tirelessly tender; he falls asleep at dinner, succumbs to dementia, and is vexed at how and why Jack arrived at his sorry state. Glory is the peace keeper who moves between accepting people, trying to fix them, and enabling them. Jack is irony personified. These are lovable characters. They have secrets that define them, roles that have been assigned to them for decades, memories both pleasant and painful, all come together in a house full of family ghosts. "This life on earth is a strange business," says Glory (253). And so she prays at dinner what we all hope and pray, "Dear God in heaven, please help us. Dear God, please help everyone we love. Amen." (292).