Book Reviews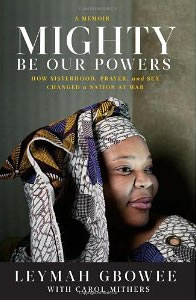 Leymah Gbowee, with Carol Mithers, Mighty Be Our Powers, A Memoir: How Sisterhood, Prayer, and Sex Changed a Nation at War (New York: Beast Books, 2011), 246pp.
           Talk about good timing. The Liberian peace activist Leymah Gbowee's memoir hit the bookstores in September of 2011. A month later she won the Nobel Peace Prize with two other women. As she observes in her preface, war is made by men and analyzed by men. Women are dismissed as a sidebar, marginalized like victims. Gbowee's life and this book correct that misleading narrative.
           Gbowee's book begins with her high school graduation party in 1989 when she was seventeen; six months later Liberia descended into fourteen years of savage civil war. In the first phase of the conflict (1989–1996), Charles Taylor and Prince Johnson overthrew the government of Samuel Doe, recording the grisly execution of Doe with an infamous videotape that later sold in Monrovia's marketplaces. Taylor was elected president in 1997, but two years later other forces ousted him. By some estimates, ten percent of the population was killed. Twenty-five percent fled the country. Starvation, systematic rape, torture, mutilation and Taylor's cocaine-crazed child soldiers who wore outlandish costumes are what most people remember. Schools and hospitals closed. Rats and dogs ate the unburied dead who littered the streets. There was no water, electricity or phone service.
           Gbowee's personal life mirrored the political chaos. Estranged from her parents, by the time she was twenty-six she had four children and no husband, education, income, or skills. She was trapped in a vicious cycle of depression and self-hatred due to domestic violence. She was on a slippery slope to nowheresville. 1998 marked a turning point, when Gbowee volunteered with the Trauma, Healing, and Reconciliation Program of the Lutheran Church and witnessed the "full horror of the war" in rural Liberia.
           As Gbowee made connections, her passion, hard work, and leadership skills emerged. One night she had a dream in which God spoke to her, "Gather the women to pray for peace." That dream became the Christian Women's Peace Initiative, in which Christian and Muslim women joined forces. They gathered in the mosques and the markets, met to share their personal horror stories, held weekly prayer meetings, denied men sex until peace came, forced Charles Taylor to peace talks in Ghana, and then in Ghana they barricaded the do-nothing men in their plenary hall until they signed peace accords. After the 2003 accords, they were instrumental in disarming the country, registering voters, and electing Ellen Johnson Sirleaf as the first woman head of state in Africa.
           As I write, Liberia is in its first presidential election since Johnson-Sirleaf came to power. The country has come a long way in the last eight years, thanks to the bravery, skill, and tenacity of Gbowee and people like her. The takeaway from this book is how ordinary people like her can bring extraordinary change in the most dire circumstances. For a film version of the Liberian women's peace movement see the documentary film Pray the Devil Back to Hell (available from Netflix).