Book Reviews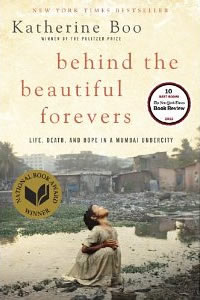 Katherine Boo, Behind the Beautiful Forevers; Life, Death, and Hope in a Mumbai Undercity (New York: Random House, 2012), 257pp.
           Across the street from Mumbai's glistening international airport, encircled by five luxury hotels, and next to a vast pool of sewage, is a tiny patch of slum called Annawadi. Because of its location, it is "magnificently positioned for a trafficker in rich people's garbage." And if you live in Annawadi, that's what you do; you collect, sort, and sell garbage — eight thousand tons a day of Mumbai's garbage. Annawadi's business is part of the 85% of India's economy that's underground and off the books. In an odd way it's a boom town by product of India's burgeoning economy. After you read Katherine Boo's book about Annawadi, you'll understand it less as a slum than a horrific place where fellow human beings live.
           Boo tells Annawadi's story by focusing on several people who represent the main ways that these slum dwellers try to transcend their miserable conditions. Abdul, a teenager and the eldest son of a Muslim family of eleven people, is a middle man who buys garbage from the pickers and sells it to recyclers. Asha, a forty-year-old mother, exploits the rampant political corruption by becoming a slum lord or civic boss who mediates local problems. She's savvy, and knows how to game the system. Her daughter Manju is a college graduate and an example of meritocratic India. Sunil is twelve, a scavenger who longs for what his comrades call "the big enjoy."
           Annawadi has its own competitive hierarchies, envies, and rivalries. Almost none of these stories end well. Abdul's Muslim family faces Hindu resentments. The government is dysfunctional. The police are violent extortionists, the courts corrupt. Most anything can be bought for a price. Despair is palpable, which is why women end their lives with rat poison or self-immolation. Others sell their bodies. In 2008 the global economic crisis and a terrorist incident in Mumbai meant fewer rich tourists and their garbage. The airport authorities threaten to bulldoze Annawadi for the cause of more economic growth. Boo, who spent four years living in Annawadi to research this book, won a Pulitzer Prize for earlier work on group homes for the mentally retarded. In November 2012, Behind the Beautiful Forevers won the National Book Award; it was a fully worthy selection.