Book Reviews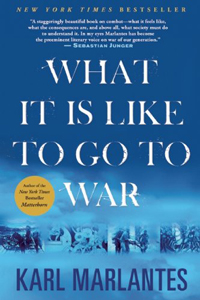 Karl Marlantes, What It Is Like To Go To War (New York: Grove Press, 2011), 256pp.
By Dan Clendenin
           After graduating from high school in 1963 in a small logging town in Oregon, Karl Marlantes enrolled at Yale University on a National Merit Scholarship. He then attended Oxford University as a Rhodes Scholar, but left after one semester and volunteered for active duty in Vietnam with the US Marine Corps. During those two years in Vietnam, Marlantes kept a daily journal, which provided the material for his first book, Matterhorn, described by one critic as "one of the most profound and devastating novels ever to come out of Vietnam." After Vietnam, Marlantes finished his Masters degree at Oxford.
           This memoir by Marlantes describes his forty-year effort to understand his Vietnam experience, and in particular his struggle with PTSD. It is part psychotherapy, part graphic descriptions of his war experiences, and part philosophic exploration of the nature of war. He wrote the book to explore "the many psychological, moral, and spiritual stresses of combat" that we actively ignore in our public and private conversations, even though they "assault our psyches, confuse our ethics, and test our souls."
           So, what is it like to go to war? War is many things — a necessary evil to maintain civilization, even as it destroys the fabric of civilization. War is chaos and carnage, grief and guilt, terror and an exhilarating experience of transcendence. Marlantes examines his own war experiences, the insights of Jung and the Bhagavad Gita, and the wisdom of everyone from Homer and Sophocles to Nietzsche and 10th-century Viking poetry. Successive chapters consider killing, guilt, lying, loyalty, heroism, and coming home. America, writes Marlantes, is "a very aggressive and warlike nation" (216). This is a simple fact of history — cf. Stephen Kinzer's book Overthrow (2006), which describes our fourteen wars in just the last hundred years. Let us hope that Marlantes's deeply personal story can provoke an important national conversation.