Book Reviews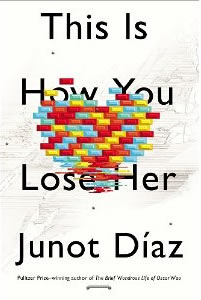 Junot Díaz, This Is How You Lose Her (New York: Riverhead Books, 2012), 213pp.
           Junot Díaz (b. 1968) teaches creative writing at MIT in Boston. His first two books took the literary world by storm: a collection of short stories called Drown (1996), and his novel The Brief Wondrous Life of Oscar Wao (2007) won numerous awards, including a Pulitzer Prize for the latter. In 2010 Díaz was appointed to the 20-member Pulitzer Prize board of jurors, then in 2012 he won a MacArthur "Genius" Award. But it wasn't always so. The success of his work has been all about channeling his experience as an immigrant from the barrios of the Dominican Republic to the rough and tumble neighborhoods of New Jersey and, finally, to success at a prestigious university — all the while trying to figure out just what personal identity and authenticity mean.
           The characters in these stories help us experience the ambiguities, tensions, and struggles of the immigrant experience. Is Yunior a "typical Dominican man" for cheating on his girl friend Magda? Or maybe he's just "weak, full of mistakes, but basically good." Most everyone speaks a form of street slang Spanglish, living in between the two linguistic worlds. Work and money come hard. Yasmin, for example, works in a hospital laundry room: "I make an American wage, but it's a donkey job." The story "Invierno" ( = "Winter") describes a first day in the United States for a young family. The father is so fearful and authoritarian that he refuses to let his two rambunctious little boys leave the cramped apartment. They watch out the window as other kids frolic in the snow. They learn English by watching eight hours of television every day. The harsh New Jersey winter delivers a shock to people used to the balmy island back home.
           In her review article of Díaz's work, Francine Prose offers this high praise: "No one else had conveyed, with quite such immediacy, the experience of Dominican-Americans inhabiting two countries and two cultures without feeling entirely at home in either. No one had made us so acutely aware of the fact that, for a large segment of our population, immigration is not a singular event but a way of life involving travel to and from the homeland, journeys with the power to reawaken all the anticipation and terror of the initial departure." See http://www.nybooks.com/articles/archives/2012/nov/08/beyond-circle-hell/?page=1