Book Reviews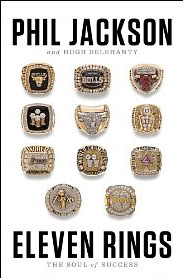 Phil Jackson and Hugh Delehanty, Eleven Rings; The Soul of Success (New York: Penguin Press, 2013), 356pp.
           You can make a good argument that Phil Jackson is the best coach ever in the history of the NBA. His winning percentage of .704 is the highest of any coach. And as the title of the book suggests, his 11 NBA titles are also the most by any coach. He won six NBA titles as coach of the Chicago Bulls from 1989 to 1998, then five more with the Los Angeles Lakers from 2000 to 2010. And, oh, by the way, as a player he was an NBA champion in 1970 and 1973 with the New York Knicks.
           Sure, with the Bulls Jackson had Michael Jordan and Scottie Pippen, and with the Lakers he had Shaq and Kobie, but here's where it gets interesting. As you read Jackson's book (his seventh — is that also a record for an NBA coach?!), you realize just how hard winning any championship is, much less eleven. There are the massive amounts of money, ego, and media. Players and coaches are also normal human beings with personal problems. In basketball there's the mysterious alchemy of the physical, the psychological, and, for Jackson, the spiritual.
           Jackson grew up in rural Montana and North Dakota. Both of his parents were pentecostal pastors. He attended University of North Dakota. Jackson is well known for his deep commitment to a Zen spirituality. In his book he's just as likely to quote a thirteenth-century Buddhist scholar as a player or coach. Every year he gives every player a carefully selected book to help him grow not only as a player but as a person. Team meetings often begin with a meditation circle to cultivate mindfulness. Chapter after chapter explores not just the championship seasons, but how you transform a team of selfish individuals into selfless teammates with a common goal. To quote the title of one of his previous books, "it's more than a game." And thus Jackson's Zen-like final sentence, which is the sub-title of the book: "The soul of success is surrendering to what it is."