Book Reviews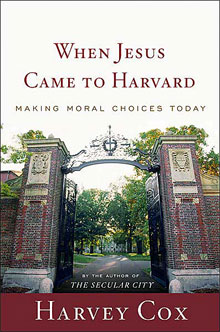 Harvey Cox, When Jesus Came to Harvard; Making Moral Choices Today (Boston: Houghton Mifflin, 2004), 338pp.
One of the many things I learned in my eight years as a campus pastor at Stanford (1995–2003) is that, contrary to a common but powerful misperception, religion is alive and well on university campuses. True, you can find rock-ribbed secularists, and political-correctness codifies what passes for acceptable discourse, but among the graduate students and faculty that I worked, and far beyond in other religious communities at Stanford, many people enjoyed lives of vibrant faith. Professor Harvey Cox has written a book that documents his similar experiences based upon over forty years of teaching at Harvard Divinity School.
In the early 1980s Harvard created a Moral Reasoning division in the undergraduate curriculum, and stipulated that every student had to take one course in moral reasoning as a graduation requirement. They asked Cox to teach what became known as Jesus and the Moral Life, a course which met with overwhelming success and overflowing classes for the nearly twenty years that he offered it. Before then, the last course that Harvard had offered with "Jesus" in the title that Cox could find in old catalogs had been taught by George Santayana who had left in 1912. After the first three years, with burgeoning enrollments of seven to eight hundred students every year, no wonder the president took Cox to lunch to discover how and why the course was so popular.
Cox has written this book for those whom he describes as "dissatisfied seekers" who have a genuine interest in Jesus and religion, but who rightly despair of conservative, self-assured, and smug literalists on the one hand, and "wimpy 'well whatever' laxity" on the other (pp. 8, 319). Most of his students, he observes, were "benevolent but uncomfortable relativists" (p. 3) who clearly longed for a different alternative. The plan of the book allows us to eavesdrop on his course, and look over his shoulder, as he took the students through the life of Jesus, his death, and the resurrection accounts as they are contained in the four Gospels. His goal is to make the Jesus of "back then and there" relevant to moral choices to us "here and now." Central to his entire method is placing Jesus in his first-century cultural context as a rabble-rousing, boundary-breaking rabbi who announced that in His own person God's reign of shalom was coming to earth.
Critical questions and intellectual scrutiny play an important role for Cox, as well they should for any believer. To his credit, he never felt like he had to answer every question his students raised, or eliminate all their (or his) gnawing uncertainties: "They were in the process of growing up, as we all are, as long as we live. And growing up means learning to live with unsatisfying and incomplete endings, with people whose lives are cut off before they should be, or spin out in unexpected directions and sometimes crash in flames. No matter how ordinary they are, all our lives end with a kind of question mark as we reach the threshold of the final mystery" (p. 168).
Cox's love for his students and for the Gospel shine through on almost every page. His candor is disarming. He recounts how at times he dodged difficulties like Jesus's healings or the resurrection accounts, only to have a bad conscience for doing so and consequently addressing those matters, and many others, head on. Unlike many intellectuals, he is comfortable talking about his own Christian faith story, beginning as it did in a small town in Pennsylvania where his non-church-going parents sent him to the Baptist church next door. He writes not only about what he thinks his students gained from the course but what he learned.
Perhaps the best compliment I can pay to this book is to say that with two college-age kids, I found myself wishing that they might be fortunate enough to have a professor like Cox, whatever the subject.