Book Reviews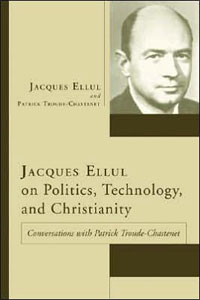 Jacques Ellul and Patrick Troude-Chastenet, Jacques Ellul on Politics, Technology and Christianity (Eugene, Oregon: Wipf and Stock, 2005), translated by Joan Mendès France, 142pp.
Despite an awkward translation that begs to be edited for everything from grammar, syntax, and spelling to word choice, this is a significant reprint about one of the most seminal and publicly Christian intellectuals of the last hundred years. The book was first published in France (1994) and later in the United States (1998). The author of fifty books and a thousand articles that have been translated into a dozen languages, Jacques Ellul (1912–1994) spent most all his life in Bordeaux where he was Professor of the History of Institutions at the University of Bordeaux. Beyond his written work Ellul was also personally and deeply involved in a broad array of other activities, including parish work in his French Reformed denomination (at both the local and national levels), the environment, a stint as deputy mayor which forever convinced him of the powerlessness of politics, and delinquent youth.
After a general introduction that traces key influences upon Ellul's life and work, the book consists of fifteen "chapters" that are actually interviews that Troude-Chastenet conducted with Ellul over a period of fourteen years (1981–1994). As a former student of Ellul and professor of political science at the University of Poitiers, he is well-placed to push and prod Ellul to describe his life and work. He has succeeded better than anyone at getting Ellul to talk about his personal life. Most interesting is the only account I can think of that Ellul gives of his Christian conversion, which he had previously refused to describe. Considerable attention is devoted to the influence of his wife. Finally, all the themes you might expect are also covered—the war years when Ellul lived with peasant farmers, his role in the resistance, and his ideas about technology, propaganda, and politics ("I never voted in my life."). There are many fascinating nuggets in this book, including Ellul's personal tastes in art, music and poetry, the influence of his mother and father, his lifelong sense as a marginal intellectual (just the way he liked it), and his personal favorite among his many books—Hope in Time of Abandonment ("I really put my heart into that book."). This is perhaps the best book for readers unfamiliar with Ellul to begin, along with the site of the International Jacques Ellul Society that was founded in 2000, www.ellul.org.