Book Reviews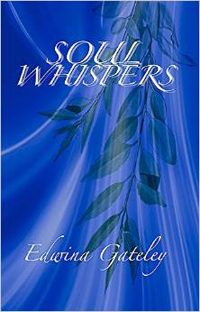 Edwina Gateley, Soul Whispers (Gateley Press, 2015), 102pp.
By Dan Clendenin
           This new collection of sixty poems by Edwina Gateley exemplifies her mystical bent that's tempered by the harsh realities of her ministry among the homeless, prostitutes, and pimps of Chicago (which has won her numerous awards). Today Gateley continues to write (she's published a dozen books), lead retreats for abused and marginalized women, and serve as a "Mother Spirit" for Exodus, a program in Chicago for women in the second phase of recovery from prostitution. She also speaks and leads retreats internationally.
           Thus the opening poem "Invitation" describes the paradox of "hovering between earth and heaven" — the former calling us outward to serve the world, and the latter calling us inward to the "wondrous nothing" of silence, solitude, and stillness. Nature also figures prominently as the voice of God — a whispering breeze, singing crickets, grass that sways, and birds that sing.
           The real surprise, when we finally understand it, is that however much we long for God, He longs for us much more. He is the One who created us, waits for us, seeks and pursues us. Our only real job is to live in the now, and to cultivate awareness and receptivity — to accept that we are accepted and to experience the "certitude of being loved." For more on Gateley, and all of her books, see her website, http://edwinagateley.com/ .