Book Reviews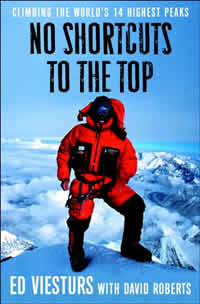 Ed Viesturs, with David Roberts, No Shortcuts to the Top; Climbing the World's 14 Highest Peaks (New York: Broadway Books, 2006), 358pp.
There are 14 mountain peaks in the world that tower to 8,000 meters (26,247 feet), and when Ed Viesturs finally conquered Annapurna, a peak on which one climber dies for every two who try, he joined an elite group of five people who have accomplished that feat without using supplemental oxygen. He's the only American to have done so. It took 18 years and 30 expeditions to the 8,000ers; on 10 trips he turned back short of the summit, once when he was only 100 feet away, exercising extraordinary willpower to follow his "deepest article of faith" that "getting to the top is optional; getting down is mandatory." Not bad for a man who in 1992 at the age of 33 had quit his practice as a vetinarian, was living in a windowless basement apartment, had ,000 of school debt, and was banging nails as a construction worker to make ends meet.
No Shortcuts is a fun read because it is about more than mountain climbing, which, of course, almost none of his readers will ever attempt. But everyone has their personal Annapurna, as he says in the final pages of the book, whether battling cancer or conquering a fear. Failure, perseverance, passion, patience, risk management, teamwork, self-sacrifice for others, endurance and death are all life lessons that easily emerge from the book. His chapter on the 1996 disasters on Mount Everest when a dozen people died, including world class mountaineers Scott Fischer and Rob Hall, ads his personal perspective to Krakauer's Into Thin Air. In the last few pages Viesturs reflects upon whether his pursuit was selfish, adventure addiction, growing older and realizing he cannot climb like he could twenty years ago, feeling letdown after such a remarkable accomplishment, and how climbing has impacted his marriage. For movie versions see the IMAX film Everest (the highest grossing IMAX movie ever made) or the documentary Everest: The Death Zone.