Book Reviews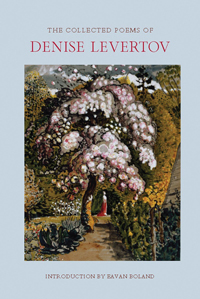 Denise Levertov, Collected Poems, edited and annotated by Paul A. Lacey and Anne Dewey, with an Introduction by Eavan Boland (New York: New Directions, 2013), 1063pp.
           Denise Levertov (1923–1997) was born in England to a Welsh mother and a Russian Hasidic father. Her father, who had emigrated to England from Leipzig, converted to Christianity and became an Anglican priest. Levertov moved to the United States in 1948 after marrying Mitchell Goodman, and in 1955 became an American citizen. She taught at Brandeis, MIT, Tufts, Stanford, and the University of Washington. At Stanford, where she taught from 1982–1993 in the Stegner Fellowship program, was colleagues with Eavan Boland, and where her papers are now housed, Levertov converted to Christianity at the age of sixty. After moving to Seattle in 1989, she joined the Catholic Church.
           "I knew before I was ten," she once said, "that I was an artist-person and that I had a destiny." As a teenager she traded letters with TS Eliot. She once said that she wrote her first poem when she was five. By the time she died, Levertov had published nearly fifty volumes of poetry, prose, and translations. This book collects every poem that Levertov published, and arranges them in rough chronological order. The first poem is from 1940 (Listening to Distant Guns), when Levertov was seventeen. The last ones come from the posthumous book called This Great Unknowing (1999).
           Boland's introduction, and an afterword by Lacey and Dewey, summarize the achievement of Levertov's poetry across eight decades. Two indexes list the poems by title and by first lines. The annotations include the short introductions that Levertov wrote for the original volumes of poetry. This collection finally makes possible what Boland calls a "panoramic view" of Levertov's work. It joins two other new works about Levertov — the critical biographies by Dana Green, Denise Levertov: A Poet's Life (Chicago: University of Illinois, 2012); and Donna Krolik Hollenberg, A Poet's Revolution: The Life of Denise Levertov (Berkeley: University of California Press, 2013).