Book Reviews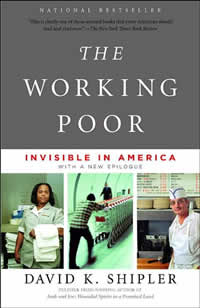 David Shipler, The Working Poor; Invisible in America (New York: Knopf, 2004)
As a relative latecomer to the Gospel (he converted on the road to Damascus about the year 35 AD), the Apostle Paul traveled to Jerusalem about fourteen years after his conversion in order to present his credentials to the original group of Apostles. He needed their imprimatur, and indeed received what he calls "the right hand of fellowship" from the movement's leaders. Recalling this trip in his letter to the Galatian believers, Paul tells us something fascinating about the first followers of Jesus. What did they require of Paul? "All they asked was that we should remember the poor" (Galatians 2:10).
Pulitzer Prize winner David Shipler has written a passionate book about the poor. One measure of a society, and certainly of Christianity, is its care for the weak, the vulnerable and the poor. Shipler focuses on a special sort of poor, not the destitute but what he calls the "working poor." These are the people we pass every day who make our American way of life possible. They clean our office buildings at night, serve us at restaurants, repair our cars, sew our designer garments, handpick our fresh produce, and so on.
The challenges this substantial part of our population face are immense, complex, and interrelated: "A run-down apartment can exacerbate a child's asthma, which leads to a call for an ambulance, which generates a medical bill that cannot be paid, which ruins a credit record, which hikes the interest rate on an auto loan, which forces the purchase of an unreliable used car, which jeopardizes a mother's punctuality at work, which limits her promotions and earning capacity, which confines her to poor housing" (p. 11).
Shipler avoids blaming the liberal left or the conservative right. Poverty is a cause of problems and the result of problems. The solution? In his final chapter he focuses on "skill and will." The resources and skill to help the poor are generally present, but what we lack, he laments, is the political will to prioritize care for the poor. In a culture which prizes and praises getting ahead, Shipler offers an eloquent call to care for those among us who have been left behind.