Book Reviews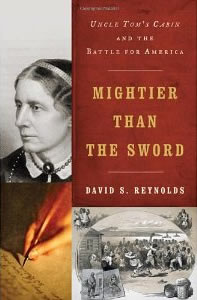 David S. Reynolds, Mightier Than the Sword; "Uncle Tom's Cabin" and the Battle for America (New York: W.W. Norton, 2011), 351pp.
           Some apocryphal stories are too good not to repeat. Ten years after publishing Uncle Tom's Cabin; or, Life Among the Lowly (1852), Harriet Beecher Stowe was the "most famous woman in America" when she visited President Lincoln in the White House in order to urge him to sign the Emancipation Proclamation. The towering Lincoln is said to have greeted the five-foot-tall author, "Is this the little woman who made this great war?" It doesn't matter that he probably didn't say this, because it's what everyone thought anyway.
           David Reynolds's book coincides with the 200th anniversary of Stowe's birth in 1811 (she died in 1896). It's a biography not only of the author, but especially of "the most influential book ever written by an American." Reynolds shows how Stowe incorporated into Uncle Tom's Cabin many political, cultural, social and religious themes of American life in her day in ways that caused her book to "redefine American democracy on a more egalitarian basis." The book reflected the Zeitgeist and also radically reformed it.
           The superlatives pile up when you try to measure the influence of Uncle Tom's Cabin. One year after its publication, it had sold over 300,000 copies. It was the first American novel to sell more than a million copies. It sold a million copies in Britain alone in its first year, and has been translated into seventy languages. Stowe was very explicit, too, about the origins of her book: she insisted that God gave the book to her in visions.
           For Stowe, "slavery was evil, and so were the political and economic institutions that supported it." She had especially harsh words for American churches. In her novel Dred (1856), one of the characters laments: "About half of them defend slavery from the Bible, in the most unblushing, disgusting manner. The other half acknowledge and lament it as an evil; but they are cowed and timid, and can do nothing." Stowe appealed to a "higher law" than the Constitution or the Fugitive Slave Act. Her message appealed to the eighth century Hebrew prophets and the message of Jesus in the New Testament.
           Reynolds traces the afterlife of the book's initial publication into thousands of plays performed by hundreds of companies all over the world. He rehearses the numerous film spin-offs. Sunday Schools used it as a text. Marketers created tie-ins of every sort. In the south, of course, it provoked outrage: owning a copy of the novel was criminalised and the play was prohibited in many places. Stowe wrote almost thirty books after Uncle Tom's Cabin, but it's impossible to imagine American history without her singular achievement.