Book Reviews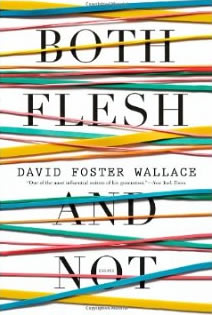 David Foster Wallace, Both Flesh and Not; Essays (New York: Little, Brown and Company, 2012), 328pp.
           Fans of David Foster Wallace (d. 2008) will be glad to have this posthumous collection of 15 non-fiction essays, all of which were previously published but are now collected into one volume for the first time. They show case Wallace's remarkable breadth of knowledge and his playful writing style. There are essays here about math and movies, sports and prose poems, the fun (or lack thereof) of writing, and lexical observations about words. The essays also demonstrate Wallace's trenchant critique of culture. There's no such thing as casual sex, he observes. The power and purpose of television is to make us keep watching. His essay on David Markson's novel Wittgenstein's Mistress reprises his long-standing interest in "ultimate loneliness." The movie Terminator 2 is what he calls "special effects porn." In a culture of Total Noise and information overload, "to really try to be informed and literate today is to feel stupid nearly all the time."
           Some of these essays feel dated. I would have enjoyed an introductory overview of Wallace's life and work. Wallace was the ultimate word nerd, but he could be a victim of his own braininess. In one essay he warns about using "noxious puff-words," for example, but then can't resist using words like "horripilative" when "hair raising" or "goose bumps" would have been just fine. The essays contain his trademark run-on sentences. Wallace also had his own carefully calculated tics, like "and but so." For at least some readers, Wallace's fiction (Infinite Jest) is where the real action is; his non-fiction was a convenient way to put bread on the table. In the end, it's good to know that the publisher judged that the reading public is still interested in one of the most important voices of his generation.