Book Reviews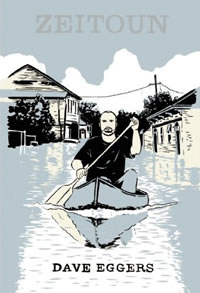 Dave Eggers,
Zeitoun
(San Francisco: McSweeney's Books, 2009), 351pp.
Abdulrahman Zeitoun is the sort of neighbor you want when a disaster like Hurricane Katrina strikes. Born in Syria as the eighth of thirteen children, Zeitoun, as his friends called him, adopted New Orleans as his home in 1994. In New Orleans he met his wife Kathy, an American who had converted to Islam long before they met. Zeitoun owned a painting contract business and six pieces of property with eighteen tenants. Kathy kept the business books and cared for their four children. Zeitoun epitomized hard work and civic pride; he once biked to work, had a flat tire, and carried his bike the rest of the way. He prayed five times a day. When the hurricane of "mythical scale and severity" plowed into New Orleans, Zeitoun drove to each of his nine job sites to secure them, while Kathy took the kids to Baton Rouge and later Phoenix.
Zeitoun was ready and waiting for Katrina. The day after, the waters in his neighborhood receded and the streets dried. Things were eerily quiet except for the barking dogs. But then the levees broke, and when the waters had finished their assault, Zeitoun's house was swamped in nine feet of water. He had moved belongings to the second floor and pitched a tent on his roof. From there he became a one man rescue team with his sixteen foot aluminum canoe. As he paddled around his neighborhood he delivered aid and extracted friends and strangers from certain death. Every day he fed his neighbor's dogs. He loved the sense of pride and purpose in serving his city.
The hurricane was nothing compared to the personal disaster that then befell Zeitoun. About a week after the storm, and just as he was ready to leave New Orleans to reunite with Kathy, he and three friends were arrested at gun point by a roving posse, handcuffed, and then caged in a makeshift outdoor prison in the Greyhound Bus Terminal. German shepherd dogs and pepper spray kept the prisoners submissive. Strip searches, fingerprinting, and interrogations were followed by deportment to a maximum security prison. All with no charges, no opportunity for a phone call or legal counsel, or the least semblance of due process.
After almost three weeks Zeitoun was released. His wife Kathy seems to have suffered more mental trauma than he did. At one level this reads like a vulgar case of racial profiling; Zeitoun was taunted as a member of Al Qaeda and the Taliban. At another level, Zeitoun's personal misfortune is a cameo of the gross failure of FEMA, and the price that ordinary citizens paid for that (the book recounts several similarly bizarre stories). For his part, Zeitoun had no time for grudges. Instead, he's rebuilt or remodeled at least 114 houses in devastated New Orleans.