Book Reviews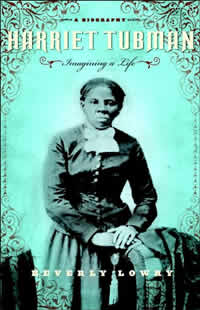 Beverly Lowry, Harriet Tubman, A Biography (New York: Doubleday, 2007), 418pp.
After any number of biographies about Harriet Tubman (1822–1913) aimed at adolescents, Beverly Lowry's new work takes its place among two other recent efforts: Harriet Tubman: The Road to Freedom (2004), by Catherine Clinton, and Kate Larsen's Bound for the Promised Land; Harriet Tubman, Portrait of an American Hero (2004). Tubman looms large as one of our country's greatest and most inspirational heroes. She's also a biographer's nightmare. Tubman was born as one of nine siblings into a Maryland slave family, she never learned to read or write, and reliable documents about her, especially her early years, are sketchy to non-existent. Thus in her author's note Lowry describes her work as "the story of a life as I have reimagined it." She tries to avoid "weasily qualifiers" about Tubman, rather unsuccessfully in my opinion, but one can hardly fault her given her subject.
Born Araminta Ross, Tubman was rented out as slave labor when she was about six years old. She later escaped to the north at age 27, then, defying all odds, made as many as nineteen return trips back into slave-holding territories in order to rescue as many as 300 other slaves. She also served in the Civil War as a spy, nurse, and armed soldier. About a year after her death, in 1914 a bronze tablet was laid at her home in the central New York town of Auburn where she lived for forty years, which includes her own description of her life work: "On my Underground Railroad I nebber run off de track and I nebber los' a passenger." Stubborn and stoic, dignified and determined, it's hard to fathom the bravery and brilliance it must have taken to do what she did. Tubman saw visions, heard the voice of God, and dreamed dreams as a truly fearless woman of faith. She also suffered from acute narcolepsy. By the time she died she was famous, which left me wondering why Lowry ends her biography in 1868, when Tubman still had another 45 years to live. Her book includes 62 photos, illustrations, and maps, along with extensive bibliographical sources for further study.