Book Reviews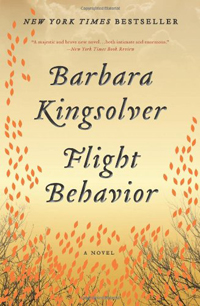 Barbara Kingsolver, Flight Behavior (New York: Harper, 2012), 436pp.
By Debie Thomas
           As Barbara Kingsolver's seventh novel, Flight Behavior, begins, 28-year-old Dellarobia Turnbow is racing up an Appalachian mountainside in sexy, second-hand boots, about to throw her life away. Bored beyond endurance with her husband, her in-laws, and all the trials of life on a failing farm, she's headed to an illicit rendezvous on the mountaintop when a "vision of glory" stops her cold. She sees burning orange trees, their very limbs "writhing." Though she can't find words for what she's seeing, the alarming sight sends her fleeing back down the mountain, her lover forgotten, her soul shaken.
           Soon enough, we learn that Dellarobia's mountain "miracle" is in fact a colony of migrating monarch butterflies — some 15 million — that has been thrown off its centuries-old flight plan by the chaotic weather patterns of a warming earth. As Dellarobia lives in a town where the concept of climate change is neither understood nor tolerated, the arrival of the butterflies raises all sorts of fascinating tensions between the townspeople and the many outsiders who come to see the unprecedented phenomenon. With deftness and courage, Kingsolver pits religion against science, urban elitism against rural know-how, education versus ignorance, and wealth against poverty.
           In the wrong hands, fiction written to educate or to convey a social message can go flat fast. In Kingsolver's hands, however, the project succeeds beautifully, not least because her love for language — for the rich, deep artistry of prose — is apparent in every sentence. The novel also succeeds because the macro-story of climate change and its consequences are offered to us at the far more interesting micro-level: in the small, domestic dramas between husband and wife, mother and child, mother-in-law and daughter-in-law. Two questions haunt the novel, each equally compelling: first, will the butterflies survive the catastrophic damage human beings have wreaked on their natural habitat? And second: will Dellarobia find a new "flight plan" for her own life, one that will ensure not only her survival, but also her thriving?