Book Reviews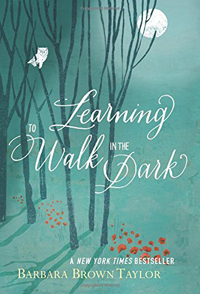 Barbara Brown Taylor, Learning to Walk in the Dark (New York: Harper Collins, 2014), 195pp.
By Debie Thomas
           Barbara Brown Taylor, a New York Times bestselling author, Episcopal priest, and professor of religion, believes that Christian teaching has done believers a disservice by dividing reality into opposing pairs, for example: spirit/flesh, good/evil, church/world, sacred/profane. In this new book, she interweaves personal experiences of exploring caves, experimenting with blindness, and spending a night in the woods without electricity, to deconstruct one of these pairs: the light versus the darkness.
           Rereading Scripture to explore times when God shows up in the dark, Taylor makes a compelling case for "lunar" spirituality, a spirituality that sees God's hand not only in the bright periods of our lives, but also in times when the light wanes, and we find ourselves struggling with uncertainty, doubt, loss, or despair. Often it is in the darkness, Taylor suggests, that God teaches us the most about himself. As in her earlier works of spiritual nonfiction, Leaving Church (2007) and An Altar in the World (2010), Taylor's new book offers a fresh and unconventional perspective on Christian discipleship, and does so in prose that is warm, lively, and engaging. This is an elegant and worthy addition to Taylor's already formidable body of work.