Book Reviews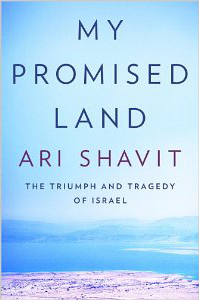 Ari Shavit, My Promised Land; The Triumph and Tragedy of Israel (New York: Spiegel and Grau, 2013), 445pp.
           There's no other nation like Israel, writes Ari Shavit. You could identify many reasons for that claim, but two in particular define his deeply personal narrative — occupation and intimidation. "In the twenty-first century there is no other nation that is occupying another people as we do, and there is no other nation that is intimidated as we are." Israel has always lived with existential fear as a "profoundly vulnerable" island of 6 million Jews in a sea of 1.5 billion Muslims. Israel was also founded by the violent expulsion and subjugation of 700,000 Palestinians, and so it also lives with a legacy of moral tragedy.
           Shavit begins with his great-grandfather, who was one of the twenty-one Zionist pilgrims who landed at Jaffa in 1897. Through dozens of interviews, basic history, his family's story, and a sort of travel narrative, he explores every salient feature of Israel's modern history. There's the socialist-secular Kibbutz of Ein Harod in 1921, the Arab revolt of 1936–1939, and statehood in 1948, which story he tells by examining the massacre and expulsion of the Arabs in Lydda. Other chapters consider the settlements, building the Dimona nuclear reactor, the wars of 1967 and 1973, and the intifadas (told from the perspective of his own experience as a jailer in a Gaza detention camp). There are the ultra-Orthodox, the marginalized Sephardic-Arab Jews, the disaffected youth of Tel Aviv's nightclub scene, and the threat of Iran.
           Shavit is a leading Israeli journalist, a columnist for Haaretz (Israel's leading liberal newspaper), a commentator on Israeli public television, and a self-described "peacenik." But his narrative never takes the easy way out of partisan ideology. Israel's story is full of ambiguity and "core contradictions." He never resolves these contradictions and complexities — moral and political, internal and external. And thus the triumph and tragedy of Israel. Dwight Garner of the New York Times named My Promised Land as one of the top ten books of 2013. For a longer review, see the one by Leon Wieseltier, the literary editor of The New Republic, who calls Shavit's work "the least tendentious book about Israel I have ever read."