Book Reviews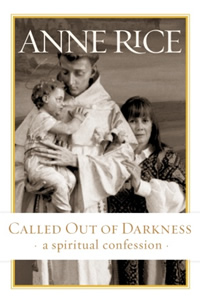 Anne Rice, Called Out of Darkness; A Spiritual Confession (New York: Alfred A. Knopf, 2008), 245pp.
The publication of Anne Rice's (b. 1941) memoir coincides with the tenth anniversary of her return to faith and the Catholic church on December 6, 1998. Rice's twenty-five novels of fantasy, vampires, witches and the occult, not to mention homoeroticism and sadomasochism, have sold upwards of 100 million books, so many of her fans were stunned to read a Newsweek article (October 31, 2005) in which she vowed that henceforth she would "write only for the Lord. Ready to do violence to my career. . . I consecrated myself and my work to Christ." She's made good on her promise, having published two books of a trilogy about Jesus — Christ the Lord: Out of Egypt (2005) and Christ the Lord: The Road to Cana (2008). Some diehard fans have wondered if Rice will ever return to the books that made her famous and famously wealthy. In May 2008, she posted an unequivocal five-minute response on YouTube — no, never again.
The first half of Rice's "confession" describes her childhood in New Orleans, where she grew up in a third generation Irish Catholic family. Her father went to seminary but never became a priest; two aunts were nuns. Until age seventeen, she went to daily Mass and weekly confession. She never met anyone who was not Catholic, or any blacks. Rice has "the deepest respect" for the nuns and parish priests who shaped her world, a world that she describes as "interesting, vast and immensely satisfying." Her college years at Texas Women's University and San Francisco State also revealed her upbringing to be tragically insular, and so her faith "cracked apart" when it encountered "the modern world." She quit the Catholic Church and faith in God for thirty-eight years, until her return in 1998.
Many parts of Rice's story are inherently interesting but left unexamined. She struggled learning to read. Her mother died of alcoholism at the age of forty-eight the summer after Rice finished the ninth grade, her daughter Michele died of leukemia at age six, and her husband of forty-one years, Stan Rice (an ardent atheist), died of a brain tumor in 2002. Rice was not radicalized living in San Francisco and Berkeley during the sixties and seventies; she describes herself as a "square" that was uninvolved and unaware of the political and cultural turmoil of those days. Gender confusion plagued her childhood, and her son Christopher (b. 1978) is gay. Rice made millions as a "nationally famous pornographer" (128), but says that she has "no guilt whatsoever for anything I ever wrote" (232). She fell "prey to long periods of depression and morbidity which seemed as much a part of my personality as type 1 diabetes was a part of my physical life" (199). Her publishing empire employees forty-nine people.
This is a story with a happy ending for a woman who has lived "an unusual public and private life." Anne Rice has "found the Transcendent God both intellectually and emotionally. And complete belief in Him and devotion to Him, no matter how interwoven with occasional fear and constant personal failure and imperfection, has become the true story of my life" (4).