Regular reviews of films that provoked me to think afresh about our human condition.
Film Reviews - Faith and Film
By Daniel B. Clendenin Ph.D.
Our latest film review is featured below. This and all previous reviews may be found in the Comprehensive Index of Film Reviews.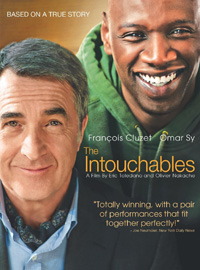 The Intouchables (2011) — France
           This comedy-drama tells the true life story of the unlikely friendship between a Parisian aristocrat named Philippe Pozzo di Borgo and his French-Algerian caregiver Abdel Sellou. It won numerous film prizes, and became the most watched movie ever in France. In the movie, the quadraplegic Philippe hires a Senagelese immigrant named Driss to care for him, even though he's an ex-criminal and a scammer who only wants government welfare. Their unlikely friendship changes them both. The wealthy and urbane Philippe introduces Driss to painting, opera, literature, and private jets. For his part, the African Driss ads some soul to Philippe's narrow life. In French with English subtitles. I watched this film on Netflix streaming.