Regular reviews of films that provoked me to think afresh about our human condition.
Film Reviews - Faith and Film
By Daniel B. Clendenin Ph.D.
Our latest film review is featured below. This and all previous reviews may be found in the Comprehensive Index of Film Reviews.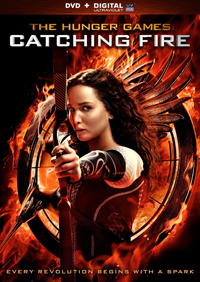 Catching Fire, The Hunger Games (2013)
Review by Megan Clendenin
           Katniss Everdeen (Academy award winner Jennifer Lawrence) is back in The Hunger Games: Catching Fire, based on Suzanne Collins' best-selling novel series that explores a dystopian future of violence and oppression. In the first Hunger Games movie, Katniss outsmarted the gamemakers and embarrassed the infamous President Snow by escaping from the bloody arena WITH her fellow tribute from district 12, Peeta. This departure from the traditional Hunger Games, in which a single victor survives and all other tributes are killed, represented a spark of hope among the oppressed districts that were tired of playing by the capital's rules. On top of fighting for her own life, and protecting her family from Snow, Katniss grapples with the unexpected and unwanted responsiblity of becoming the symbol of a growing rebellion among the districts. Danger, excitement, tragedy, and romance ensue in this blockbuster sequel.