Regular reviews of films that provoked me to think afresh about our human condition.
Film Reviews - Faith and Film
By Daniel B. Clendenin Ph.D.
Our latest film review is featured below. This and all previous reviews may be found in the Comprehensive Index of Film Reviews.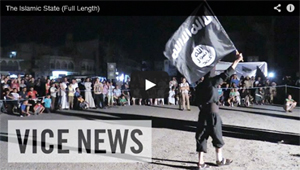 Inside The Islamic State (2014) — Syria
           I watched this 42-minute YouTube after seeing it in an article in the Huffington Post. The journalist Medyan Dairieh of Vice News gained unprecedented access to the Sunni militant group ISIS, the result of which is this documentary. Dairieh spent three weeks with an ISIS press officer, who took him to recruitment centers, rallies, a prison, and rides with the vice squad. The film explains how in March 2013 ISIS took control of Raqqa, Syria, and made it its de facto capital, and declared Abu Bakr al-Baghdadi its caliph. ISIS now controls large swaths of Iraq and Syria. "I say to America," brags the press officer, "that the Islamic Caliphate has been established. And we will not stop." For the video, click on the link below. Warning: parts of this video contain graphic violence.
http://www.huffingtonpost.com/2014/08/22/iraq-conflict-documentaries_n_5698169.html