Regular reviews of films that provoked me to think afresh about our human condition.
Film Reviews - Faith and Film
Our latest film review is featured below. This and all previous reviews may be found in the Comprehensive Index of Film Reviews.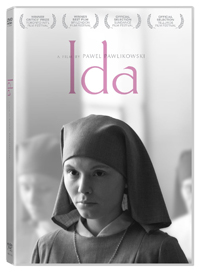 Ida (2014) — Poland
By Dan Clendenin
           Pawel Pawlikowski's black and white historical drama is set in 1962 Poland. A young girl named Anna, who was raised in a convent, is a week away from making her vows to live forever as a nun. Before she does that, her Mother Superior insists that she visit her aunt, who's her only living relative. She meets her aunt, a chain-smoking alcoholic and state prosecutor for the Communist Party, and so they make for an odd couple. Together, Anna and her aunt journey together back into their family history during the Nazi occupation. Each in their own way confronts questions about religious identity, faith, doubt and despair. This 82-minute film has won thirty-four awards and fifteen nominations in film festivals around the world. I watched it on Netflix Streaming. In Polish with English subtitles.