Regular reviews of films that provoked me to think afresh about our human condition.
Film Reviews - Faith and Film
Our latest film review is featured below. This and all previous reviews may be found in the Comprehensive Index of Film Reviews.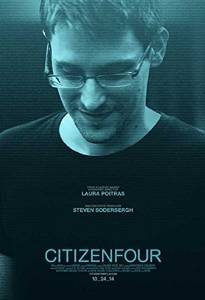 Citizenfour (2014)
By Dan Clendenin
           In January of 2013, the filmmaker Laura Poitras (recipient of the 2012 MacArthur Genius Fellowship and co-recipient of the 2014 Pulitzer Prize for Public Service) received several encrypted emails from an anonymous government analyst called "citizenfour," who said that he could prove that the NSA conducted a massive, illegal, and worldwide surveillance program. In June, Poitras traveled to Hong Kong with Glenn Greenwald and Ewen MacAskell of The Guardian, where for twenty hours across eight days they filmed Edward Snowden in a hotel room. He explained who he was, what he was doing and why, the scope of the NSA program, and then gave them his trove of classified documents. All this was before anything had gone public. On June 5, 2013 the Guardian published its first article on the story. The proverbial feathers then hit the fan, as Snowden watched it all unfold from his hotel room. He left the hotel, vanished into Hong Kong while he sought asylum, and then ended up in Russia. This is a real life political thriller happening before your eyes. For a feature length article by George Packer on Poitras and her film see The New Yorker (October 20, 2014).