Regular reviews of films that provoked me to think afresh about our human condition.
Film Reviews - Faith and Film
By Daniel B. Clendenin Ph.D.
Our latest film review is featured below. This and all previous reviews may be found in the Comprehensive Index of Film Reviews.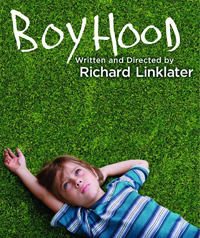 Boyhood (2014)
           The writer-director-producer Richard Linklater spent twelve years (2002–2013) filming the same cast to dramatize the coming of age of a boy named Mason from age six to eighteen. His sister Samantha and single mother Olivia are significant secondary characters. Not much happens in this film, not much except for all the little things that make a life — family vacations, anxieties about school, birthday parties, a first girlfriend, the perils of sex and alcohol, and all those things over which parents fret so much and try so hard. The message here seems to be that we somehow survive having and being parents. Not everthing goes well for Mason, but most of his family does their best most of the time. Boyhood premiered at Sundance and Berlin, and has won uniform critical praise, including an astonishing 99% rating on Rotten Tomatoes.