Regular reviews of films that provoked me to think afresh about our human condition.
Film Reviews - Faith and Film
By Daniel B. Clendenin Ph.D.
Our latest film review is featured below. This and all previous reviews may be found in the Comprehensive Index of Film Reviews.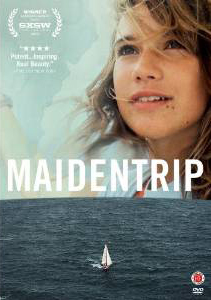 Maidentrip (2013) — Holland
           Laura Dekker (b. 1995) was only fourteen when, after a ten-month court case, she set sail on August 21, 2010 in an attempt to be the youngest person ever to sail around the world alone. But it was hardly her "maiden trip." She was born and raised on a boat for the first five years of her life when her father sailed around the world for seven years. Still, it was quite an achievement when she landed in the West Indies 519 days and 27,000 nautical miles later in her 38' ketch named Guppy. She had no follow boat or support crew, and she did all the filming at sea for this documentary about her trip. Unlike some, she stopped along the way to enjoy the various island lands and people. For the book version, see One Girl One Dream (2014).