Regular reviews of films that provoked me to think afresh about our human condition.
Film Reviews - Faith and Film
Our latest film review is featured below. This and all previous reviews may be found in the Comprehensive Index of Film Reviews.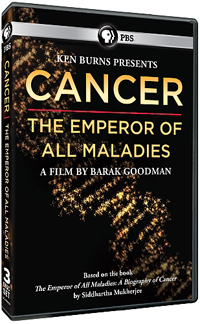 Cancer: The Emperor of All Maladies (2015)
By Dan Clendenin
           A text from Egypt four thousand years ago lists all the known illnesses of that day, including what we now know as cancer. Under the column "treatment" the author writes, "there is none." The documentarian Ken Burns has joined with PBS to make a three episode film (six hours total) on the Pulitzer Prize-winning book by Siddhartha Mukherjee entitled The Emperor of All Maladies; A Biography of Cancer (2011). As you would expect from Burns, the film is equal parts science, medicine, history, and sociology. "The story of cancer," according to the PBS website, "is a story of human ingenuity, resilience, and perseverance, but also of hubris, paternalism and misperception." It's shocking to see how we treated cancer a generation ago; and equally shocking to see the progress made. You can watch all three episodes for free at the PBS website, here: http://www.pbs.org/kenburns/cancer-emperor-of-all-maladies/home/ .